Completeness, comprehensible structure, and quick access. These are the most important factors when working with information. And that's what Workshop Butler team prioritized when creating a completely renewed version of the attendee profile.
Plenty of different data about an attendee is accumulated from their registration till the moment they leave feedback and receive a certificate. You never know which of this data you might need so it's better to keep it all. And to save yourself from looking through countless spreadsheets, you might want to keep it in one place.
New WSB attendee profile will provide you with detailed and well-organized information. You don't have to spend hours searching for that one number or trying to put together data from different sources. It's already compiled and structured and you can manage it with ease.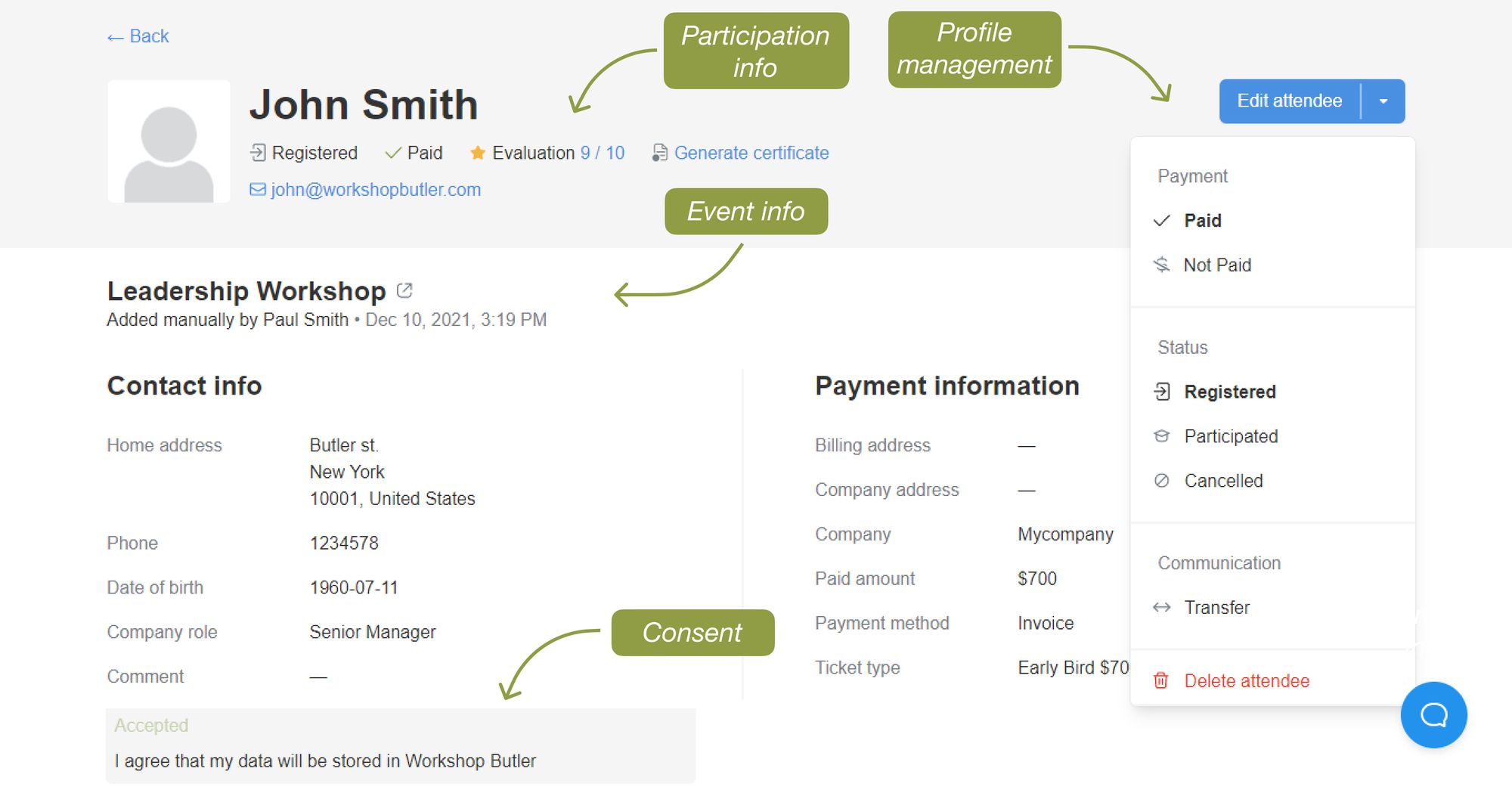 Participation Info
Find the essential information about each event stage at the top of the page.
Participation status. Participated, registered, cancelled, or transferred — see at which point this attendee now.
Paid/unpaid. Check if they have secured their seat and bought a ticket already.
Evaluation. Keep track of those who have sent you feedback and see how they rate your event.
Certification. Make sure that everyone has received their certificate.
E-mail. Keep at hand the fastest way of communication.
Event info
Find the source and time of registration and switch to the event page instantly.
Contact info
Store all information submitted by an attendee during the registration process: home address, phone number, birth date, company role, comments and any other data you need.
Payment info
See detailed breakdown of the payment: payment method, taxes and fees, and the sum you receive.
Consent
Make sure that you and your attendees are on the same page about conditions for registering and participating in your event.
Profile management
Manage the data with a simple dropdown menu — no need to switch between different pages.
Payment. Manually choose the payment status.
Participation status. Mark an attendee as participated or cancelled and change statuses anytime.
Communication. Transfer an attendee to a different event, copy an evaluation link, or reissue a certificate — no matter what the situation is, you can handle it from WSB.
Delete an attendee. If someone ended up in the list of participants by mistake, simply delete their record from this event.