There are brands that come to mind first when you talk about a certain topic. In terms of surveys, this brand is SurveyMonkey. Being on the market for more than a decade, it has earned a solid reputation as a product that has incorporated everything there is about surveys and feedback collection.
It offers a vast library of questions and answers designed by specialists to get the highest response rate, pre-made surveys for all kinds of purposes, multiple options to create your own surveys, tools to collect responses and analyze the data from every angle.
Let's see how SurveyMonkey can be used for training evaluations.
Table of contents:
SurveyMonkey plans and pricing
SurveyMonkey interface
How to create a feedback form in SurveyMonkey
How to send a feedback form in SurveyMonkey
How to analyze SurveyMonkey responses
Privacy and accessibility in SurveyMonkey
SurveyMonkey integrations
Final thoughts
SurveyMonkey plans and pricing
SurveyMonkey does have a free plan, but it's more like a demo version. For most of the features, you have to buy a subscription.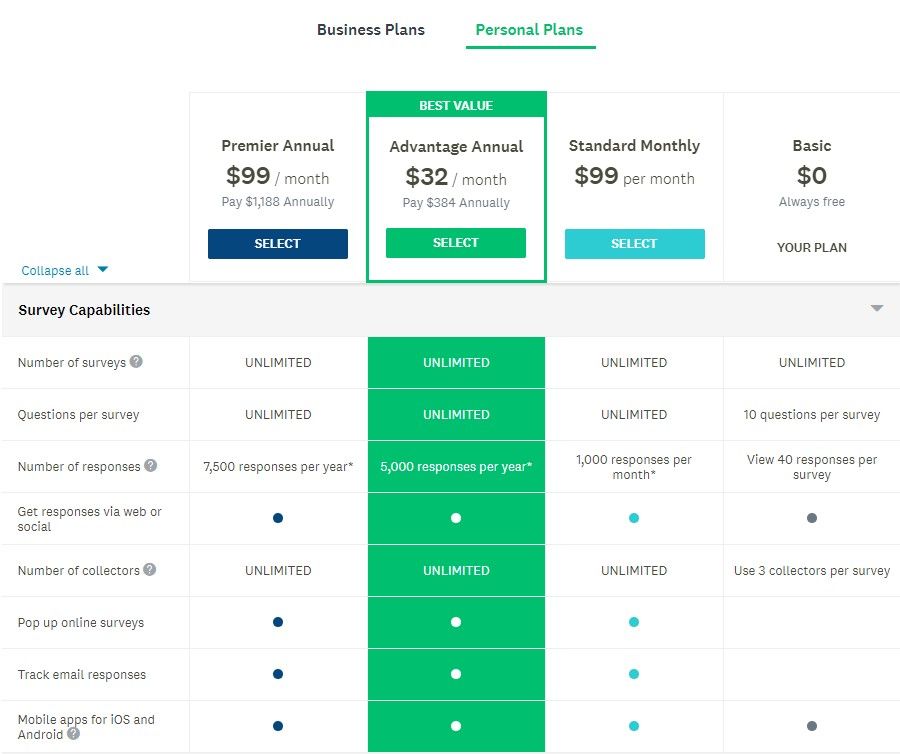 Basic plan has strict limitations: 10 free questions and 40 free responses per each form. You have access to the most basic question types and methods for data collection and analysis. The rest of the features are available in the Preview mode. To use them, you need to subscribe to one of the paid plans.
SurveyMonkey offers a Standard Monthly personal plan that unlocks most of functionality, like unlimited number of questions, or possibility to add your own logo.
There are also Advantage and Premier personal plans billed annually. They add more to the list, allowing to create multilingual forms or use more in-depth analysis.
Business Plan for teams has three tiers as well: Advantage, Premier, and Enterprise. Advantage and Premier start at 3 users and are billed annually for each user. For the details of the Enterprise plan, you should contact the sales department to discuss the matter on an individual basis.
In addition to the benefits listed in the Personal plans, Business plans open opportunities for a team to work on surveys together.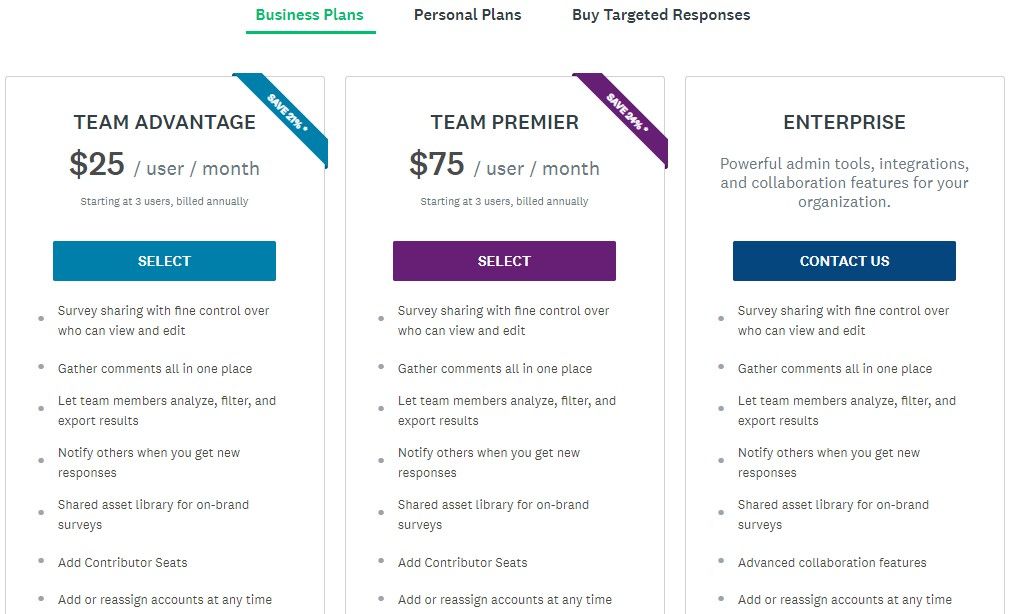 Email support is available for any plan. For Paid plans, phone support is provided.
You can see the information about both Personal and Business plans on the Plans & Pricing page. But with the Basic plan, finding details won't be that easy. As a result, you might face a situation where you have collected a large number of responses without knowing the limitations of your plan. And you will be able to view only 40 of them, unless you buy a subscription.
Conclusion:
Basic plan allows you to create a simple form for a small number of attendees
You can try some of the paid features in the Preview mode on the Basic plan
Paid plans give access to creating robust forms and making in-depth analysis
Paid plans are available for individuals and teams
Most of the Paid plans are billed annually
Any plan can receive email support and Paid plans have advanced support options.
SurveyMonkey interface
SurveyMonkey presents a formidable array of options which can put off the beginners. However, it does a good job of guiding you through the process of creating a survey. There are tooltips for features and links to Help Center articles with detailed explanations.
When creating a survey, you can either use a Drag and Drop function to add and arrange elements or specify the position where you want to put them.
On a Basic plan, all paid features are highlighted in yellow so you will easily recognize which of them are available for free. The system will warn you if you have added a paid feature or exceeded any of the limits for your plan.
There are also disclaimers informing you that some of the features are available for English language only.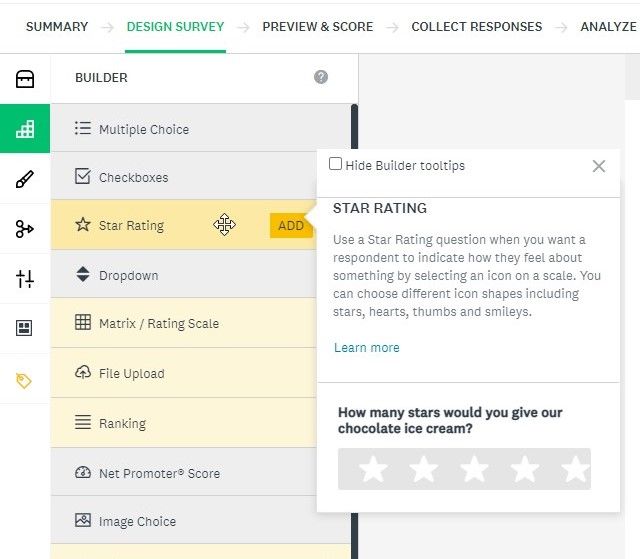 Conclusion
Well thought-out system of tooltips shortens the learning curve for the huge number of features
Intuitive Drag and Drop interface
Highlighting unavailable features makes it easier to understand the boundaries of the currently used plan.
How to create a feedback form in SurveyMonkey
The Design Survey menu is where SurveyMonkey shines the brightest.
Create a new survey. Start from scratch or get a ready evaluation form — SurveyMonkey starts off by asking how you want to create your survey.
It presents a large choice of templates, including the General Event Feedback.
And there is the "Build it for me" option, which will walk you through every step — from offering you a ready set of questions to recommending the best way to collect responses. With it, you can choose Post-event Feedback which should fit your purpose just right.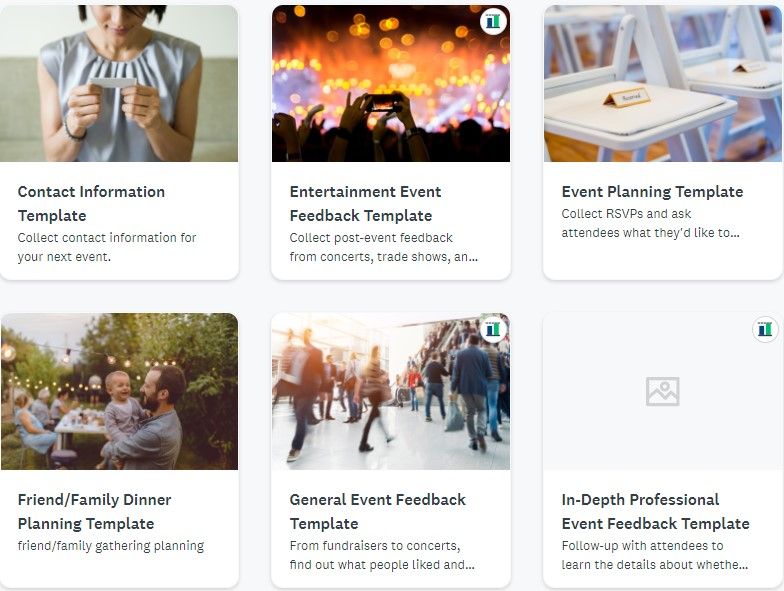 Add questions from the Question Bank. Almost every standard question you thought about had already been taken into account by SurveyMonkey, whipped into perfect shape, and added to their Question Bank. According to SurveyMonkey, these questions have been written by their methodologists to get the highest response rate. You can access the Question Bank in the menu to the left or start typing a question to see possible variants.
There is the Answer Bank as well. If it's a question with pre-made answers which frequently appear in different surveys, the system will offer the best wording.
Of course, you can write your own questions and answers, or edit those suggested by the system.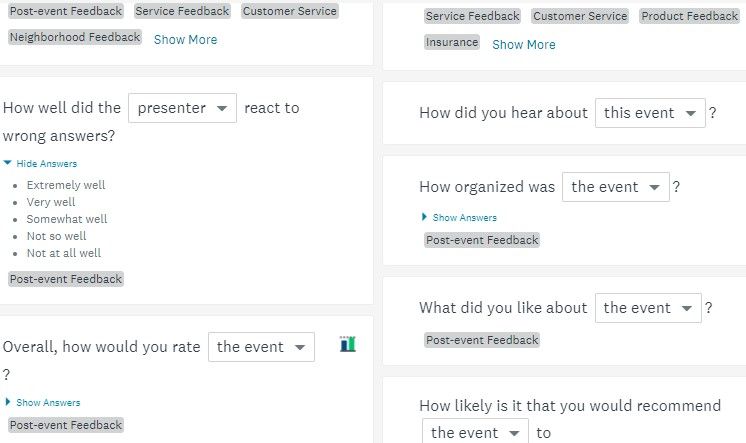 Use Builder to create and edit a survey with various elements - question types, introduction, images, text, and pages.
The number of question types for the Basic plan is rather limited, however it's still possible to get by with the available options. And if you are using a Paid plan, your possibilities are expanded significantly.
Survey fields have additional settings (e.g. Require answer to This Question or Validate answer for a Specific Format) and can be divided into pages. Owners of Paid plans can apply Page Skip logic to show respondents only the pages that are relevant to them.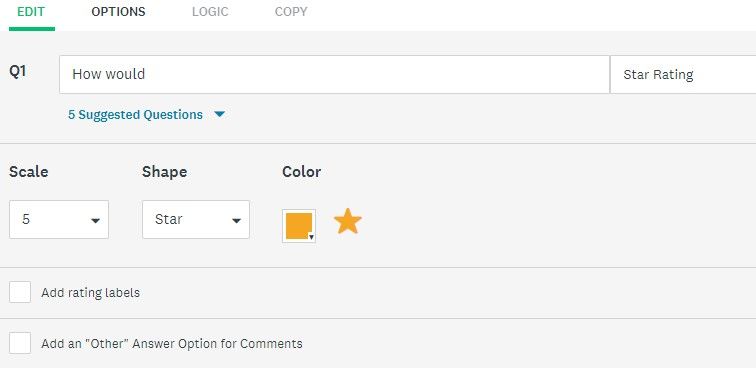 Change Appearance with one of the free themes on the Basic Plan or customize font, color, layout, and background on Paid plans.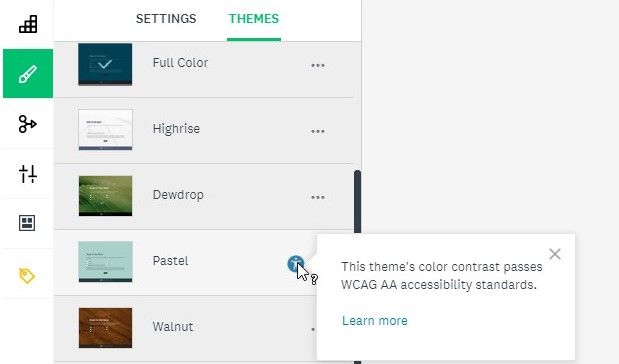 Choose Survey Format:
One question at a time — focus your respondents attention only on the current question.
Classic — show all questions at once and give respondents the chance to estimate how much time it will take to submit an evaluation.
Conversation — engage your respondents into conversation by asking questions in a chat format.
You can choose the best format depending on the number of questions and their types.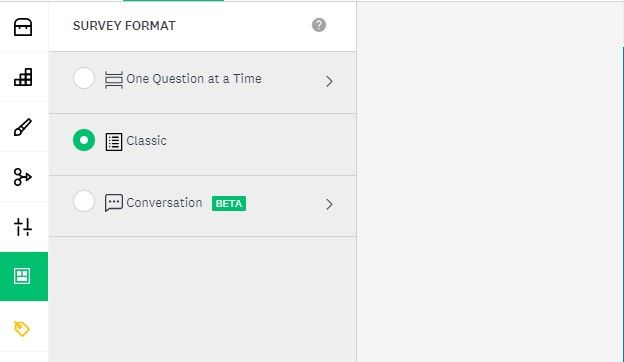 Check Paid Features. This section warns you if you have added features unavailable for your current plan. From here you can either remove them or switch to the Plans & Pricing page.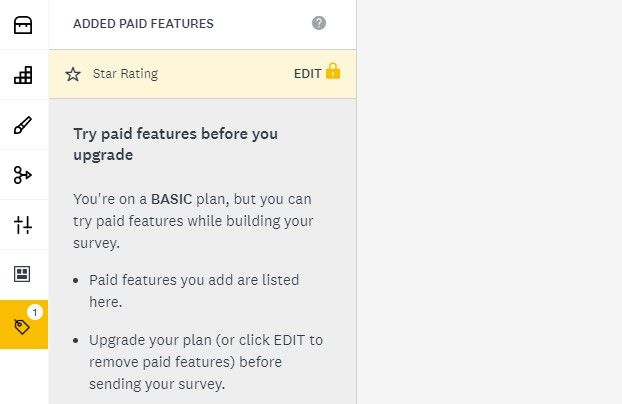 Move to Preview & Score. Once you have finished creating your evaluation form, you can preview how it will look on different devices. SurveyMonkey measures completion time and completion rate, giving you recommendations on how to receive more responses.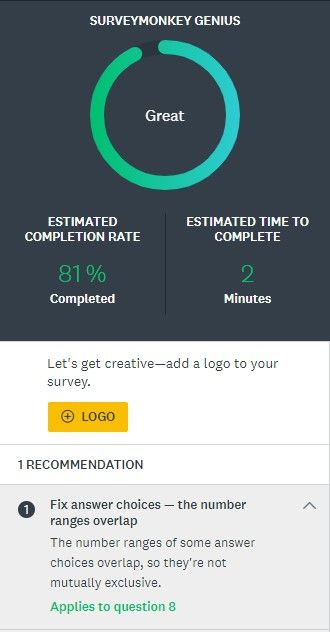 Conclusion:
Premade templates for different situations including events
A database of questions and answers
18 question types with different settings
Some of the question types and their settings are available for Paid plans only
20 themes for Paid plans with the possibility to further customize them and 10 non-customizable themes for the Basic plan
3 different survey formats
Survey preview on different devices
Estimate completion rate and completion time with recommendations for improvement.
How to send a feedback form in SurveyMonkey
When it comes to delivery options, SurveyMonkey does not lower its bar:
Share a link or post on social media with the Basic plan
Send by email or messenger, embed in a mobile app or on a website, add  responses manually with Paid plans
Send SMS or collect evaluations offline if you are using the Enterprise plan.
Each method can be configured further: turn on and off multiple responses from the same person, allow response editing, enable showing real-time results to respondents, and many more.
As always, the system will show you which options are available on your current plan.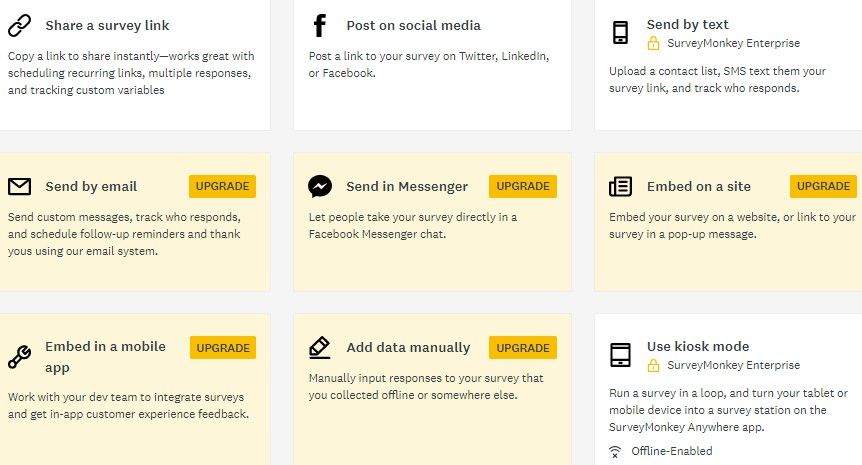 Conclusion:
9 ways to collect responses, some of them are limited to certain plans
Additional settings for each method.
How to analyze SurveyMonkey responses
Not only SurveyMonkey allows you to create a robust evaluation form, it provides you with analysis tools as well.
Analyze open-ended questions. Use the Search bar to find specific answers or switch to individual responses of a particular attendee. If you are on the Paid plan, additional features are available: tagging responses to group them, creating the Word Cloud for visualization, or using the Sentiment analysis to better understand respondents' emotions.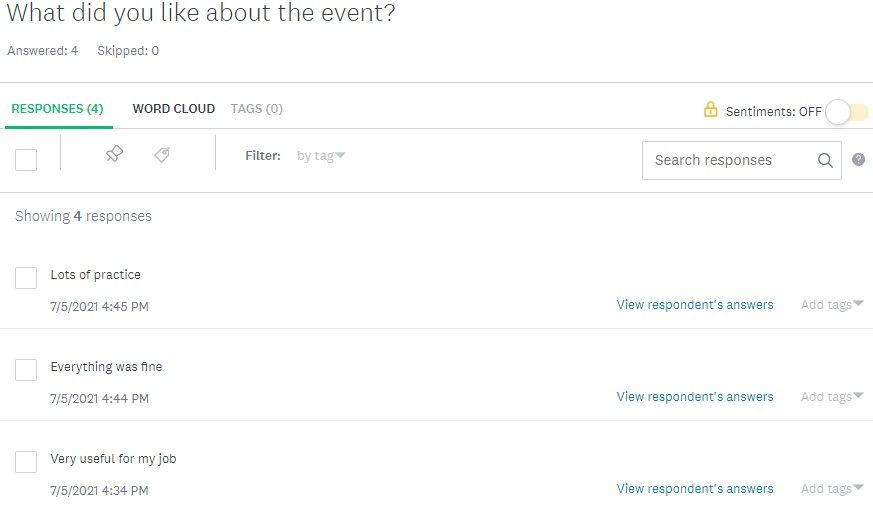 Create charts and schemes. Questions with choices can be turned into customizable schemes: you can choose the chart type and colors, show percentage, and add labels for long questions and answers, then save results to present them on the Dashboard.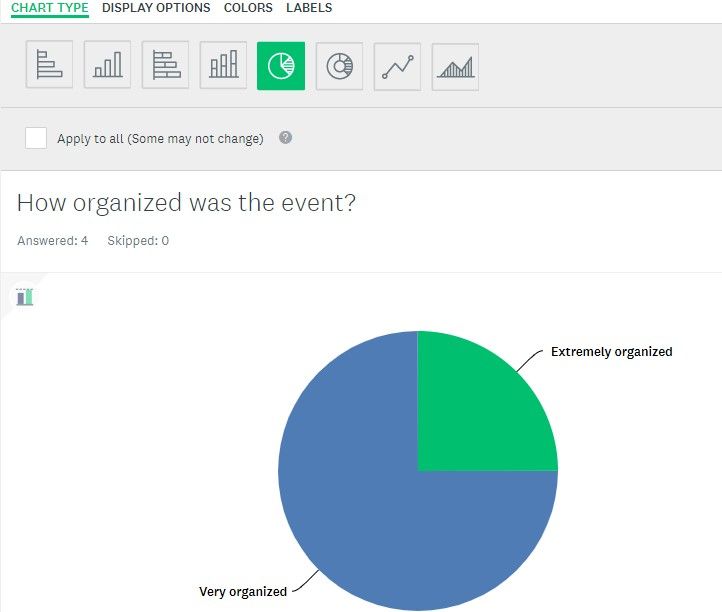 It's possible to filter and compare responses with each other or with the Benchmark data for the industry.
Export. You can save your results in several formats ( .pdf, .xls, .csv, .pptx, or spss) on Paid plans only.
Conclusion:
Possibility to filter and compare collected data
Customizable display of information
Benchmark data to compare your results to other surveys with the same questions
Export data in various formats for Paid plans
Possibility to save and present the results.
Privacy and accessibility in SurveyMonkey
Protecting data. Access to a survey can be restricted with a password or by specifying IP addresses for which it's available/unavailable. You can even create a separate password for each attendee by adding individual collectors for them.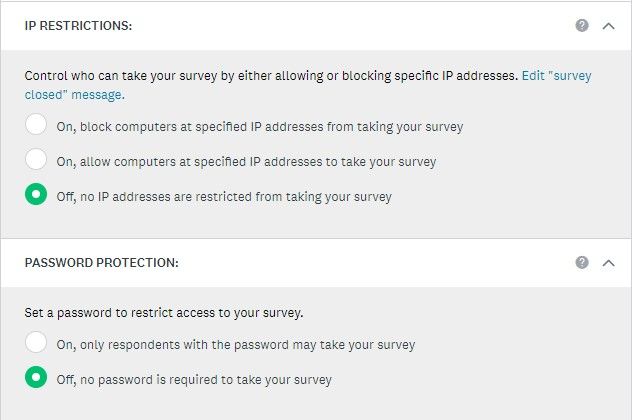 Storing data. SurveyMonkey might delete surveys on a free account if it has not been active for some time. They also delete the responses that exceed the limit for the Basic plan (40 responses per survey). The company encourages its users to handle sensitive data carefully and shares recommendations on how to store it.
Benchmark data. If you have activated Benchmarks to compare your results with those average to the industry, the responses you receive for your surveys may be used for Benchmark data too. The company emphasizes that they do not disclose any personal information, just calculate statistics.
However, if you do not want your surveys to be included in this data, you can opt out. In this case, you will no longer be able to access statistics for the industry, and data from your surveys will be removed as well.
Giving access.  On Basic and Individual plans, you can share access to the survey preview with the possibility to leave comments.
Teams can work on designing a survey together. A survey creator defines the level of access for each team member on different stages: designing, collecting responses, and analyzing the data.
Conclusion:
Evaluation forms can be protected with a password or by including/excluding IP addresses from the list
Data from free accounts can be deleted if the account has been inactive or the responses have exceeded the limit
Users can opt out of Benchmark data collection if they don't want their results to be included into statistics
Owners of Basic and Individual plans can leave comments on previews
Owners of Business plans can work on creating forms together.
SurveyMonkey integrations
SurveyMonkey can be integrated with many popular apps like Slack, Zapier, Zoom, Shopify, and others. It will allow you to collect, view, and share results via the means most convenient to you.
Some apps are compatible with any plan, others can be used with certain Paid plans only.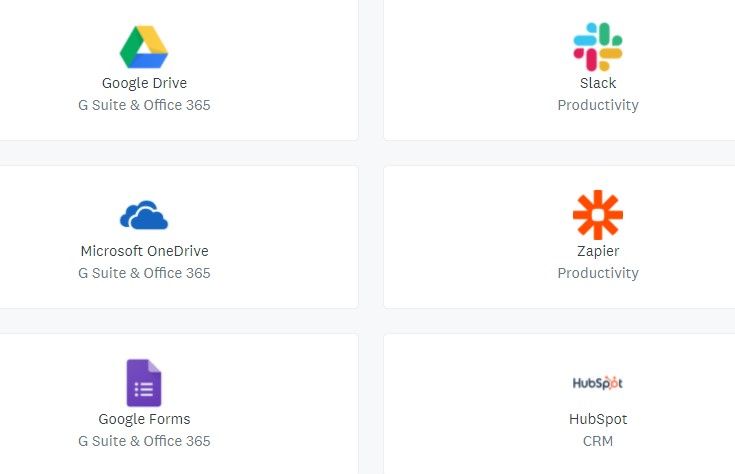 Conclusion:
Wide range of integrations and plugins for different purposes.
Final thoughts
SurveyMonkey has been in the survey business for so long for a reason. It seems they know everything about asking the right questions in the right way and getting the most out of the answers. The problem is whether it's cost-effective for your needs?
What are the benefits?
A user-friendly interface with tooltips and links to Help Center
A huge set of pre-made templates, answers, and questions
Various tools to design and customize your evaluation form
Different question types with additional settings
Recommendations how to get better results
Several different ways to collect responses
Tools to filter, compare, and export data
Tools to customize the display of the data collected
Benchmark data to compare your results with others
Methods to protect your forms
Possibility to comment forms created by other people, and work on forms together for teams
Wide range of apps for integration.
What's the downside?
The Free Basic plan provides very limited options for creating forms and surveys
Only 40 responses per form can be viewed on the Basic plan
Data from inactive free accounts can be deleted
Most of the plans are billed annually, which might be inconvenient.
Subscription price is the factor to be considered when deciding whether SurveyMonkey is worth it for your training business or you would rather look for something more affordable.
Check out an evaluation tool from Workshop Butler designed specifically for training business. It is easy in use and works in connection with other event management features, such as attendees' notifications, creating testimonials, and calculating trainer's rating.