Have you already decided which questions to ask your attendees after an event ends? Great then, because the essential part of the training evaluation process has been cleared.
But there is still a technical side you need to think about. How to design an evaluation form and distribute it? The easiest way would be to get software where you can do all this.
In this article, we will compare tools for training evaluation by the most important parameters. What to choose if you have a tight budget? What would be the best for those looking for thorough analysis? What are your options if you prioritize time-saving and like everything automated? We will try to find out today.
And if any particular tool caught your attention, check out our detailed reviews for each of them:
While the first four are professional form builders, Workshop Butler is a complex solution for trainers and training companies that handles all administrative processes from accepting registrations to collecting feedback.
Table of contents:
Pricing
Configuration
Customization
Data collection
Data analysis
Data storing
Privacy and accessibility
Overall recommendation
Pricing
Before you set out to explore functionality, it's worth checking out the pricing.
Is the price reasonable for you?
Can you pay every month or do you have to make a year-long commitment from the start?
Is there a free version?

Our recommendation
Google Forms. Yes, it's really minimalistic in comparison to other tools, but it will provide you with the most basic features and will cost you practically nothing.
JotForm. If you don't run a workshop for a big audience every week, then 100 monthly submissions and 5 active forms provided by the free plan would be enough for your purposes.
Workshop Butler. Apart from collecting evaluations, you also need software for accepting registrations, collecting payments, setting up your website, etc. And all of them would probably cost money too. Unless you have a solution which covers all of these steps. That would be Workshop Butler where you get all services with just one subscription.
Configuration
How fast and how easy it is to set up a form might be a deciding factor for many users.
Are there any event feedback templates?
Which question types are available and which of them are suitable for training-needs?
Can you add a translation for a multilingual audience?
Is it possible to structure your questionnaire to improve the respondent's experience?
Can you personalize your form with conditional logic?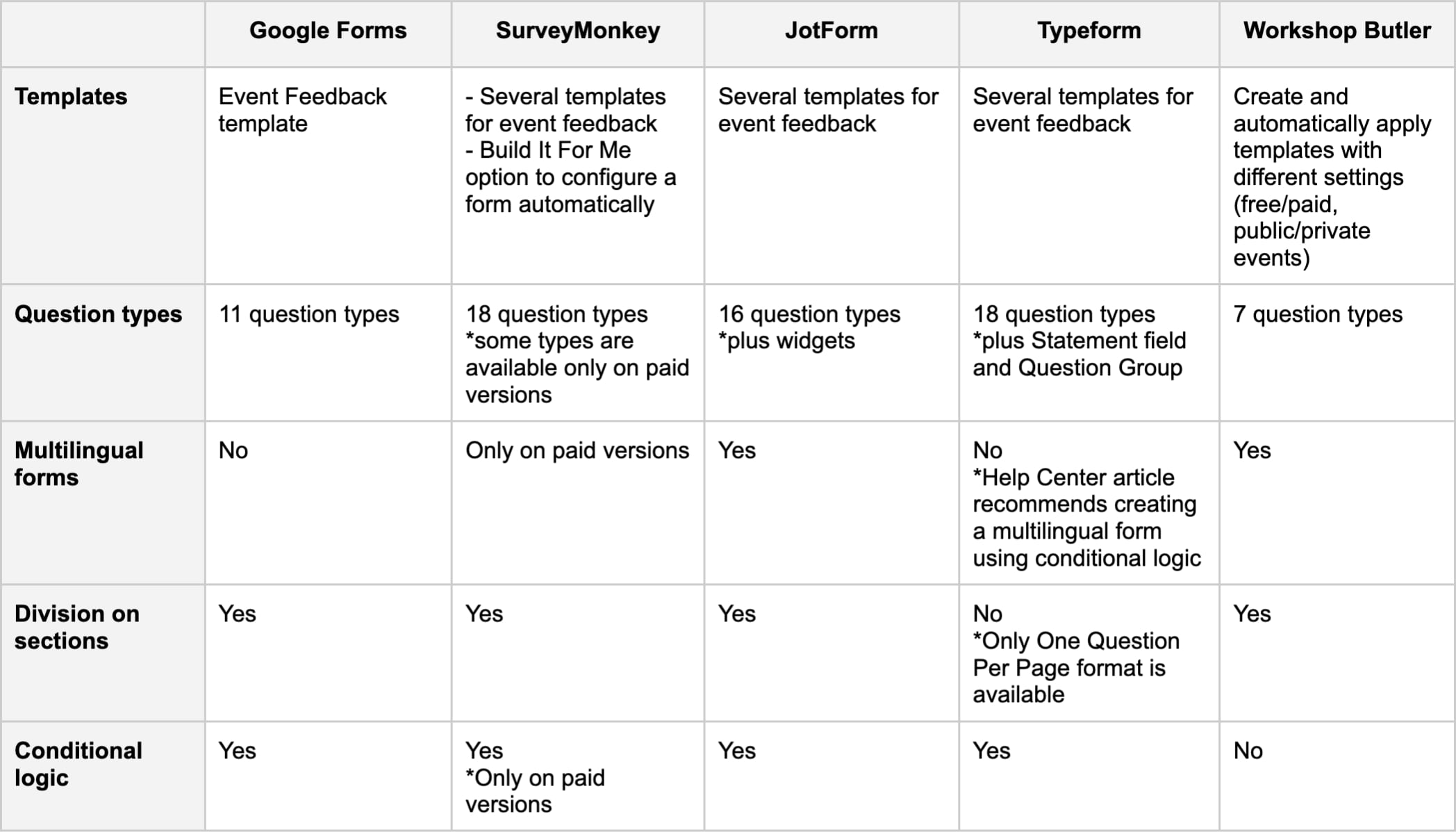 Our recommendation
SurveyMonkey offers you the list of most popular questions and answers written and verified by experts. And the functionality of paid plans can satisfy even the most demanding users.
JotForm has many different templates for event feedback, allows to add translation easily, and gives full access to the builder on the free plan.
Typeform has well thought-out conditional logic if you are looking for smart surveys.
Workshop Butler contains only question types essential for event feedback, without making you scroll through all possible options for all possible purposes. It chooses the appropriate template automatically once you create and save it.
Customization
A pleasantly designed evaluation form can melt the hearts of those who don't feel like replying to your questionnaire. That's why you might want to check how each builder approaches customization.

Our recommendation
JotForm. Rich customization options on the free plan and custom CSS for experienced users.
Typeform. Easily customizable slides and a decent choice of free themes.
Data collection
There is a wide range of data collection methods for different kinds of surveys. Your preferences in this matter might affect your choice of the evaluation tool.
We have already reviewed some of the methods in terms of how suitable they are for event evaluation.

Our recommendation
JotForm and Typeform. All most popular data collection methods are available on the free plan.
Workshop Butler adds an attendee's address to the mailing list after registration and can send a form automatically after an event ends.
Data analysis
Some builders pay the same amount of attention to analyzing responses as to gathering them. And others contain the bare minimum to see the data collected.
You need to decide which level of analysis you expect from your builder.
How data is visualized?
Is it possible to compare responses?
What formats can data be exported to?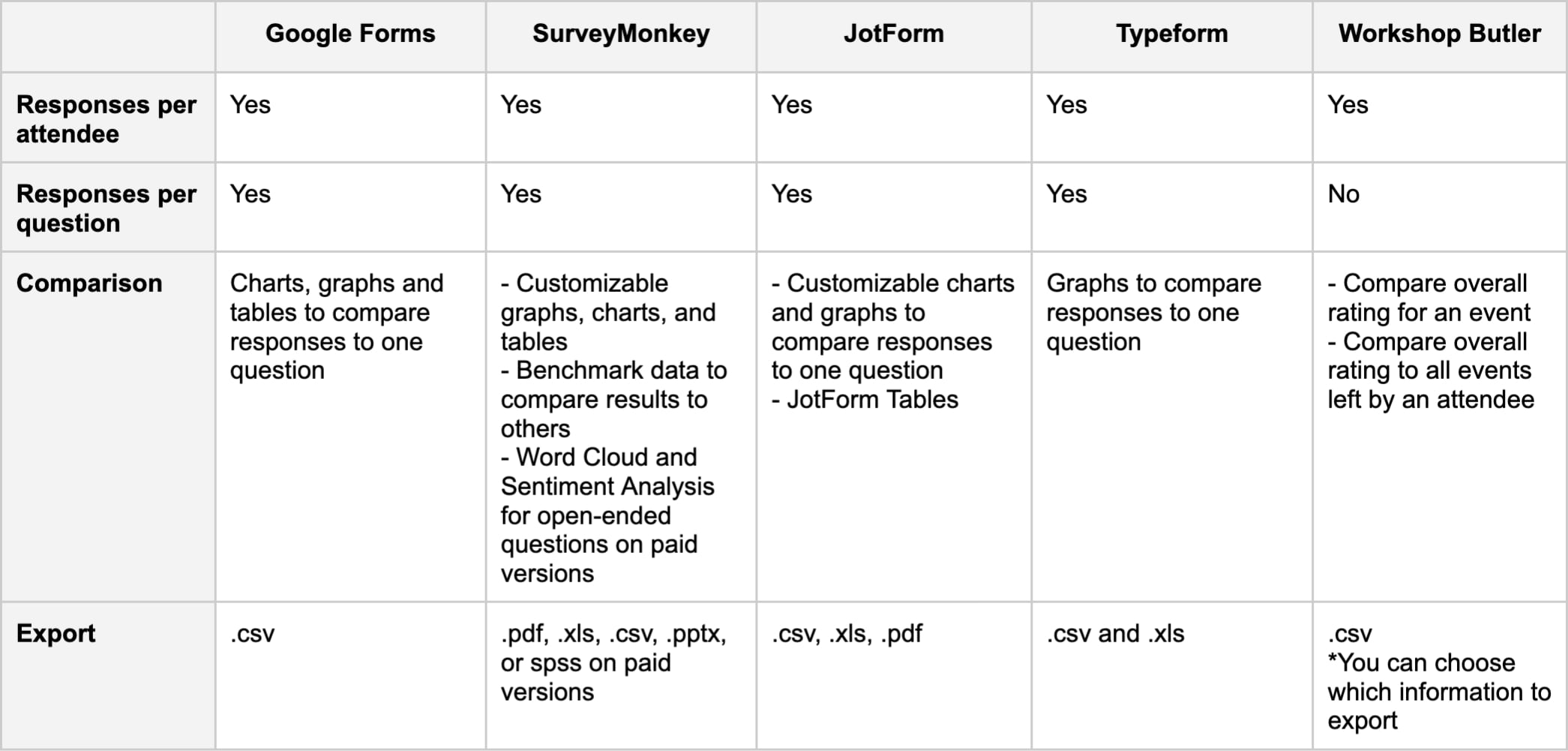 Our recommendation
SurveyMonkey. Results can be presented in different ways and compared to benchmark data in the industry. Paid plans open more possibilities for research.
JotForm. Several ways to view and compare the results. Data can be easily structured with JotForm tables.
Data storing
Past evaluations might come in handy even after a long time so it's better to keep them. Different builders have different policies concerning the data you collect.
Is there any expiration time or storage limit for keeping responses?
Can responses be structured?

Our recommendation
Google Forms. Responses to each survey will be stored as long as you need them.
Workshop Butler. No limitations on how long the responses can be stored. In addition, all evaluations can be viewed per an event they were submitted for or per an attendee who submitted them.
Privacy and accessibility
Who will have access to a form, how safe it is, and can you work on it together with others — it's important to check these aspects before you start distributing your questionnaire.
Are there any additional protection methods?
Is collaboration on a form possible and in what way?

Our recommendation
Google Forms. It's easy to collaborate on a form for anyone with the link or anyone within the same domain, depending on the privacy settings.
JotForm. Access to a form is provided similar to Google Forms. And what's more, the other person doesn't even need a JotForm account.
Workshop Butler. Other WSB users with the access can collaborate on a form and help manage results.
Overall recommendation
JotForm. With full availability of all features on any plan, you don't have to compromise on how many questions to ask or what options to choose. The limitations are not that strict allowing you to keep several different forms. Add to this plenty of room for customization and analysis, and an easy way for collaboration — and you will get really powerful and affordable software for collecting evaluations, be it training evaluation or anything else.
Workshop Butler is aimed specifically at event management. Evaluation process here is handled in connection with the other stages of the event lifecycle which means that all event-related data is safely stored in one place. The builder itself has been created with one purpose — collecting training participants' feedback. It contains only relevant question types and settings, and has a convenient template system which can save a lot of your time.