Personalized evaluation forms can significantly improve user experience. Your attendees will be more inclined to provide thought-out feedback if they feel that you have put time and effort into writing questions just for them. Such a form will boost up completion rate and give you a lot of data.
Typeform delivers ample options for trainers who want to customize their forms for each attendee, and offers a simple yet powerful form builder, not overloaded with features.
But is it able to meet your needs in other aspects? Let's find it out in today's post.
Table of contents:
Typeform pricing
Typeform interface
How to create a feedback form in Typeform
How to send a Typeform
How to analyze responses in Typeform
Privacy and accessibility in Typeform
Typeform integrations
Final thoughts
Typeform pricing
If you are actively running workshops every month, staying on a Free plan could be difficult. It allows you to create an unlimited number of forms, but limits the responses to 10 per month. And you cannot add more than 10 questions to your form, including the ending message.
The pricing scheme for the Paid plans is a little bit more complex than in other form builders. There are 3 tiers — Basic, Plus, and Business, the cost of each one depends on how many responses you need per month.
The more responses you plan to collect, the higher the price, which is billed monthly or yearly.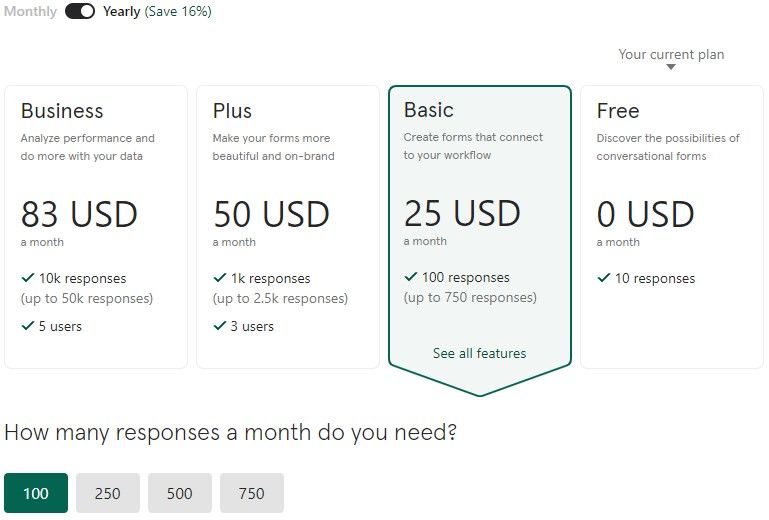 The availability of the other features is listed in the breakdown on the same page. What might be worth paying attention to is that the Typeform logo can be removed only on Plus and Business plans, unlike JotForm or SurveyMonkey where white labeling comes with any paid plan.
Owners of the Business Plan can use the benefits of live chat and priority support. And others can contact the support team by email.
Conclusion:
With the Free plan, you can collect only 10 responses per month and add 10 questions per form, while storing an unlimited number of forms
The subscription price depends on a plan and the number of responses you need
Not all paid plans allow the removal of the Typeform logo
Email support is available for any Typeform user.

Typeform interface
It might take some time to get used to managing Typeform. Its interface is easy and comprehensible for the most part, yet at some points you might get confused about how to proceed further or how to overcome certain difficulties when creating a form.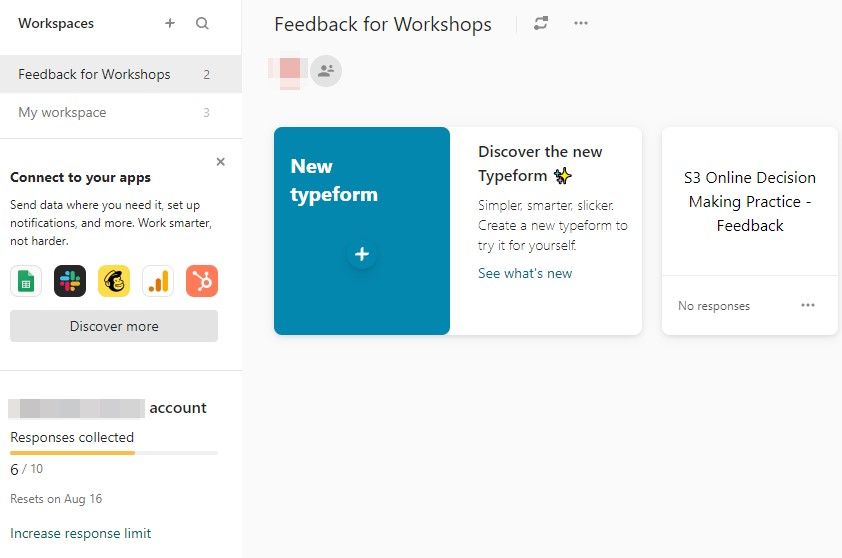 And there is also only one supported format — one question per slide. The system automatically adds a progress bar for each survey, but in some cases it would be better to show all fields at once, especially for short questionnaires.
On the plus side, Typeform does a good job informing its users on the limit of their plan. You can always check in the main menu how many responses have already been collected this month and the system will show you notifications when the limit is near. It will help you avoid situations when the storage runs out unexpectedly at the most inappropriate moment.
The system also warns you when you add features unavailable for your plan. You can try them, but cannot publish a form unless you remove these features or upgrade your plan.
Conclusion:
Although learning to work with Typeform might take some time, once you get the hang of it, making forms will become an easy task
One question per slide is the only supported format
The system always informs you about the limitations of your plan.

How to create a feedback form in Typeform
Templates are divided into categories with a search bar. Feedback category includes Post Event Survey Feedback and Course Feedback, which can be used as a basis for your own form. Each template is customized differently.
If you decide to start from scratch, the system will ask you to enter the name of the form and define the category it falls into (e.g. Feedback form).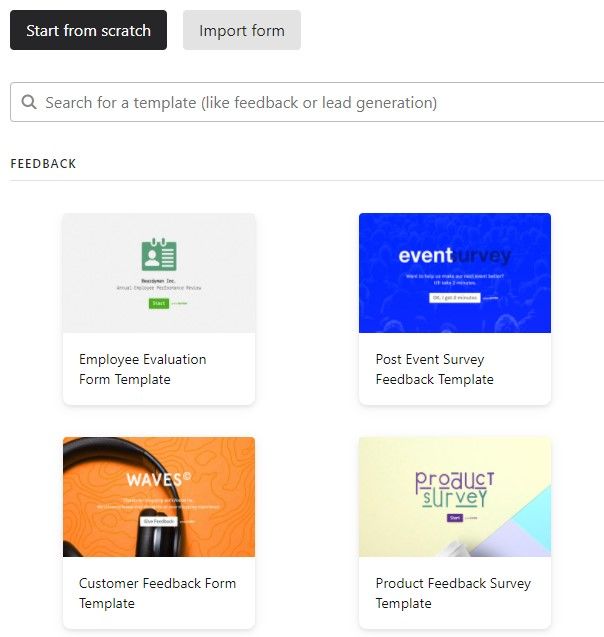 Question types in Typeform have different colors and icons, making it easier to see the form structure and notice if there are too many questions of one type.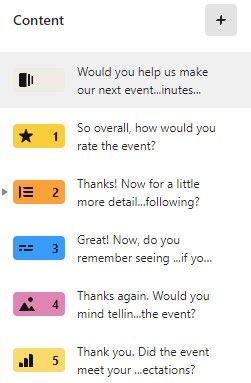 Apart from multiple choice, rating, single text, and other standard fields, Typeform offers some interesting solutions such as Question Group or Statement.
Question group combines related questions together. For example, you can ask respondents to rate several aspects of your event and add a question group for this, then choose a different rating scale for each aspect to engage respondents more effectively.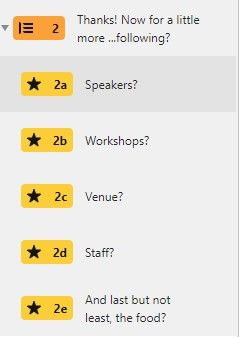 However, it's important to remember that both the header where you ask the question itself and sub questions are counted towards the 10 question limit on the free plan. If you haven't bought a subscription, you might opt towards the Matrix type instead. It does not give you that much freedom in customization, yet allows you to save up space for other questions.
Statement is another element which is better to use on paid versions only. It's not a question, but a word from you (e.g. some form of encouragement urging respondents to keep going).
Just like its name implies, Ending is the page that appears after respondents have answered all questions and clicked Submit.  There is a room for customization by adding some words of gratitude to it, an image, or a video. On paid plans, it's possible to add the button link to another website.
You can create multiple ending pages and use conditional logic to show your respondents different pages based on their answers. For example, thank those who have rated your event high, for their support, and promise to deliver better workshops in the future to those who have not been satisfied.
Ending is counted towards the question limit for the Free version so you should consider carefully what you prefer — another question or a Thank you message with some information for your respondents.
Settings for each question are located to the right — make a question required, enable multiple choice selection, define max character length, or insert an image upon which respondents can rest their eyes. You can upload your own files or choose from the Typeform gallery and adjust the slide layout by putting the image to the left, right, on the background, etc.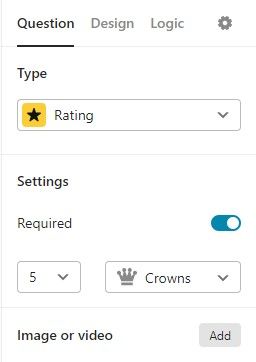 While images and videos change the look of a particular slide, Design enables you to change the look of the whole form. It offers an editor for your own theme and a set of free and premium pre-made themes with customizable fonts, colors, size, and layout of questions.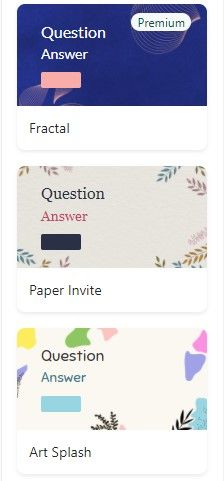 A separate tab in the builder is allotted for Logic. Once you open it, you'll understand why. Logic in Typeform is subdivided into Simple and Advanced where the Simple one just redirects respondents to a certain field, and Advance one contains tools to make your form really smart — branching, variables, and hidden fields. Logic in your form is displayed as a map so you clearly see each logic jump you add.

Hidden fields use the information you already have to personalize each form. For example, you probably know the names of your attendees as they have registered for your event. Then you can add the "name" parameter as a hidden field to address your attendees by name in the form and include this name in the link to track each submission. If you are using mailing integrations (e.g.Mailchimp), it will fetch names directly from your mailing list.

When you have finished configuring your form, you can visit general Settings to toggle off the progress bar or set up custom notifications upon completion for respondents.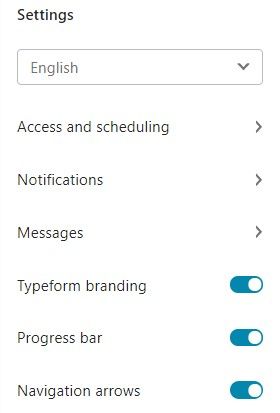 Conclusion:
Post Event Survey Feedback and Course Feedback templates to create an evaluation form
Colored scheme with different icons for different question types to better understand the form structure
Question groups for related questions
Statement to pause for a moment and say a couple of words to respondents
Customizable ending page
Option to add images and videos to each slide
Free and Premium pre-made themes and the theme designer
Simple and advanced logic to create smart forms
Hidden fields to personalize experience.

How to send a Typeform
Before you share your form with attendees, you need to hit the Publish button to save the changes you made.
After that, go to the Share screen to see available options. Apart from standard methods like email, social networks, and embedding a form on a website, there are a chat and QR codes to distribute forms not only online, but on offline events as well. In some cases, it could come in useful.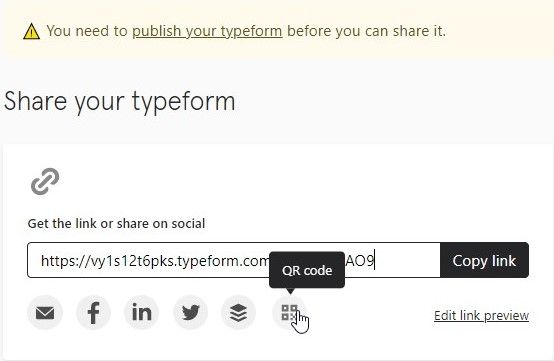 If you choose to send an email, you will do it from your own mailbox. It adds credibility to your message and your attendees will instantly understand who it is from.
Conclusion:
All standard means to share a form: email, social media sharing, embedding a code
Options to start a chat and generate a QR code
Email messages are sent from your own mailbox.

How to analyze responses in Typeform
Analysis tools in Typeform are not as rich as in SurveyMonkey or in JotForm, however there are some good solutions.
Check the Big Picture with general information like average completion time or completion rate, view summary for each question with charts, see individual responses and filter them by questions (e.g. by name or email) or by hidden fields.

Generate report is the option to present the results by sending a link or printing it out. Before that, the system lets you change the design a little bit: add images or adjust colors and fonts. It's impossible to change the chart type or anything else related to the displayed data.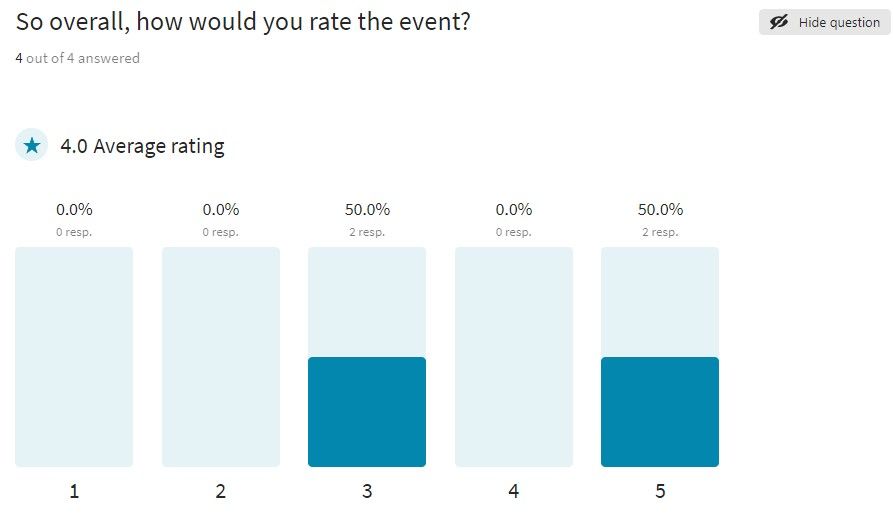 Export is available only in .csv and .xls formats.
Drop-off rate is a handy paid feature that shows you at which point of your form attendees closed it. If you know where the problem is, you can change the wording or delete this field completely and check if the completion rate changes.
Conclusion:
Analysis tools are limited to individual responses and summary for each question
Individual responses can be filtered by fields, including the hidden ones
It's possible to generate a report with survey results
Export in .csv and .xls
With drop-off rate you can see which questions make respondents stop filling in the form.

Privacy and accessibility in Typeform
Forms and surveys often ask for personal information, so any user of any form builder would be concerned how this information is handled. Typeform gets these doubts cleared by explicitly explaining how data is protected, who is responsible for its security, and what they do to prevent any breaches.
If you seek additional ways to protect your form, there is a password protection. However, the related article points out that it's not 100% safe so you should not rely on it much
Just like with white labeling, collaboration on forms is included only in Plus and Business plans. On the Plus level, a team of 3 users is allowed, and on the Business level - a team of 5 users. If you still want to invite more people for collaboration, you should contact the sales department for the custom solution. The form owner can create different workspaces for different team members and give them access to certain stages of the pipeline (e.g. only the builder or only the responses), then move the form between workspaces. This way, you can develop a well-thought workflow where each team member knows what they should do and handle the job promptly.
Conclusion:
Detailed information in the Help Center about how the company protects your data
Password protection
Collaboration is allowed only for Plus and Business plans
Form owner can give team members access to certain parts of the form.

Typeform integrations
The list of integrations is located in the main menu and in the Connect tab of every form.
Typeform can be integrated with most of the popular apps, and Zapier integration expands the list of available apps even more. Although, some of the integrations are locked for the Free plan owners.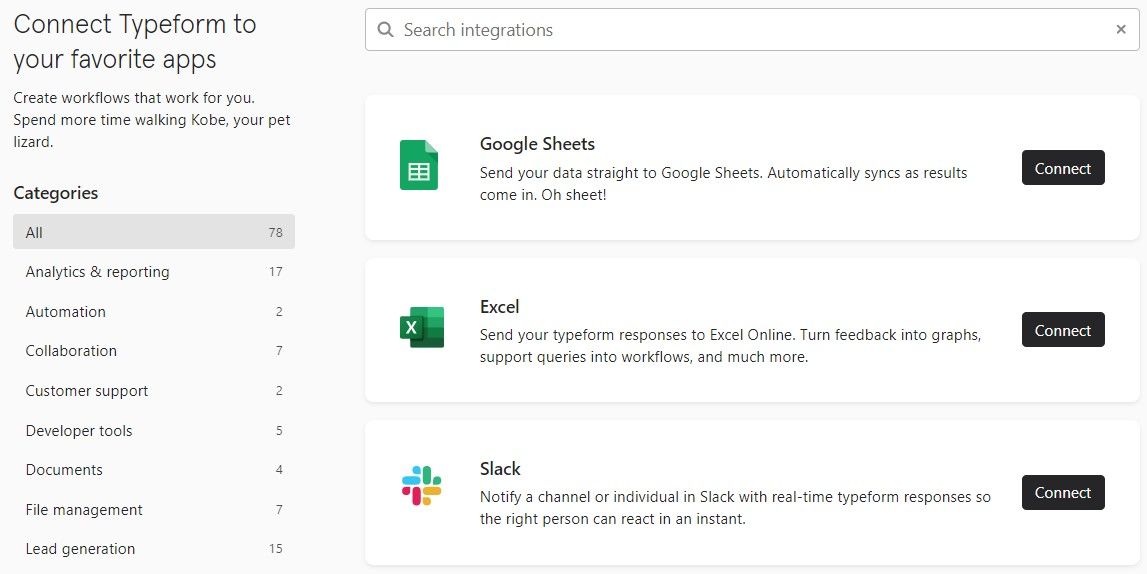 Integrations give users additional possibilities all the way from creating a form to storing results: integrate email marketing tools to populate hidden fields or use Google Sheets to store results without worrying that you delete them accidentally.
Conclusion:
Integrations with many apps, including Zapier
Some integrations are paid.

Final thoughts
Typeform limitations can be inconvenient at times, however it also has some interesting features which might tip the scale in its favor for some users.
What are the strong points?
Free plan does not limit the number of stored forms and lets you to try most of the features
The system always informs you when you are about to run out of storage
Builder contains useful elements like question groups, statements, or customizable endings
Design tab contains free and premium themes, as well as the editor to create a new theme
Logic gives you a lot of room to create a really smart form
Hidden fields utilize the data you already have to set a personal approach for each attendee
Forms can be shared via email from your mailbox, via QR code, sent as a link, or embedded on a website
Collected data is presented in graphs and charts
Replies can be filtered by fields, including hidden ones, and exported in .csv and .xls
Drop-off rate shows which questions make respondents to quit a form
It's possible to create a team to collaborate on a form and assign different members to different roles in creating and managing a form
Integration with all popular apps.
Where it lacks?
Free plan allows to collect only 10 replies per month and add 10 fields per form, including Headers in question groups, Statements, and Endings
White labeling and collaboration are available only for Plus and Business plans
The only supported format is One question per slide
Analysis and export options are rather limited.
Typeform provides robust functionality in certain aspects, while lacking in others, especially in comparison to other builders like Survey Monkey or JotForm. It could be a great choice for those looking to create flexible forms tailored for each and every attendee, but can hardly work out if you need powerful analysis tools.
Eventually, what evaluation tool to choose depends on what features you need the most — simple and accessible service that doesn't require much investment, rich builder with extensive logic and plenty of options, instruments to analyze your data from every angle to get the most out of any answer, or something different. Like incorporating an evaluation tool with other services to manage all event-related matters in one place.
See how evaluation process is done in Workshop Butler — a solution designed specifically for trainers and training companies.