Some online form builders like Google Forms make accessibility its strong point. Others like SurveyMonkey put emphasis on an expert opinion they can offer. And there are those who give its users more choice than any other similar software. That would be JotForm.

Underneath its minimalistic interface, you will find a powerful set of tools, each one containing plenty of options to choose from.

Today, we will find how to use JotForms to collect event feedback.
Table of contents:
JotForm pricing
JotForm interface
How to create an evaluation form in JotForm
How to send a JotForm
How to analyze responses in JotForm
Is JotForm secure
JotForm integrations
Final thoughts
JotForm pricing
JotForm has the free Starter plan and a three-tier subscription. The difference between plans is the storage limit — the more expensive plan you use, the more forms and responses you can store. In addition, paid plans allow the removal of the JotForm logo. Apart from that, users of any plan have access to the full functionality of the service, including email support.

Starter plan. As expected from a free plan, it has a pretty strict limit of 5 forms and 100 submissions per month. That's not much, but it could be enough to try everything out and decide whether it's your cup of tea.
Paid plans can be billed both monthly and annually, but annual subscription comes cheaper. Company also guarantees to return the money if you cancel the subscription within 30 days of payment.
For Enterprise level features, you should contact the Sales department directly.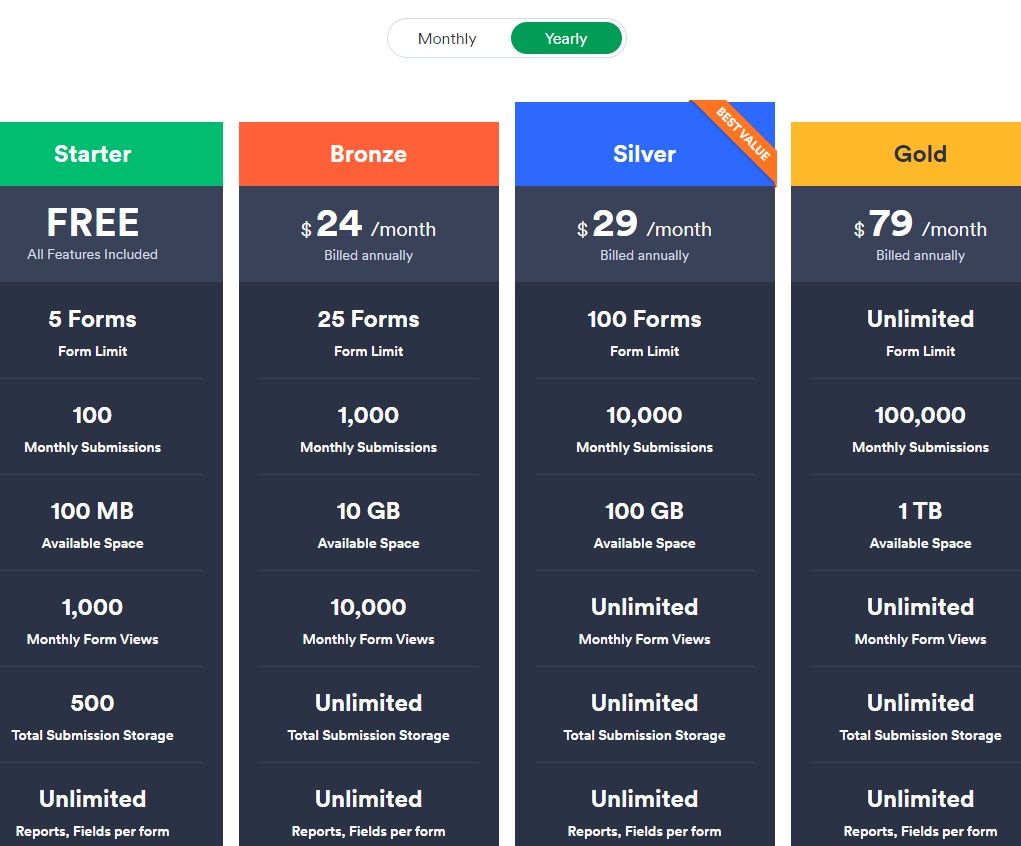 Conclusion:
Owners of all plans have access to full functionality in forms creation, distribution, and analysis
Plans are different in the number of forms and submissions they allow to store
Paid plans have the option to remove the JotForm logo
Paid plans can be billed monthly and annually, with the possibility to get a refund within 30 days of payment.

JotForm interface
Main Menu. As we mentioned at the beginning of this article, the interface is really minimalistic. You will see just the list of your forms in the main menu, with all other information hidden under the respective drop-down lists.

Form Builder. The form builder consists of the Drag and Drop list of elements to the left and Customization options to the right. Again, nothing too complex. However, the list of elements itself and, especially, settings for each element might feel a bit overwhelming. JotForm adds a short explanation for each option and there is more detailed information in their User Guide.
Another handy feature is that you can see the limitations of your current plan from both the main menu and the builder.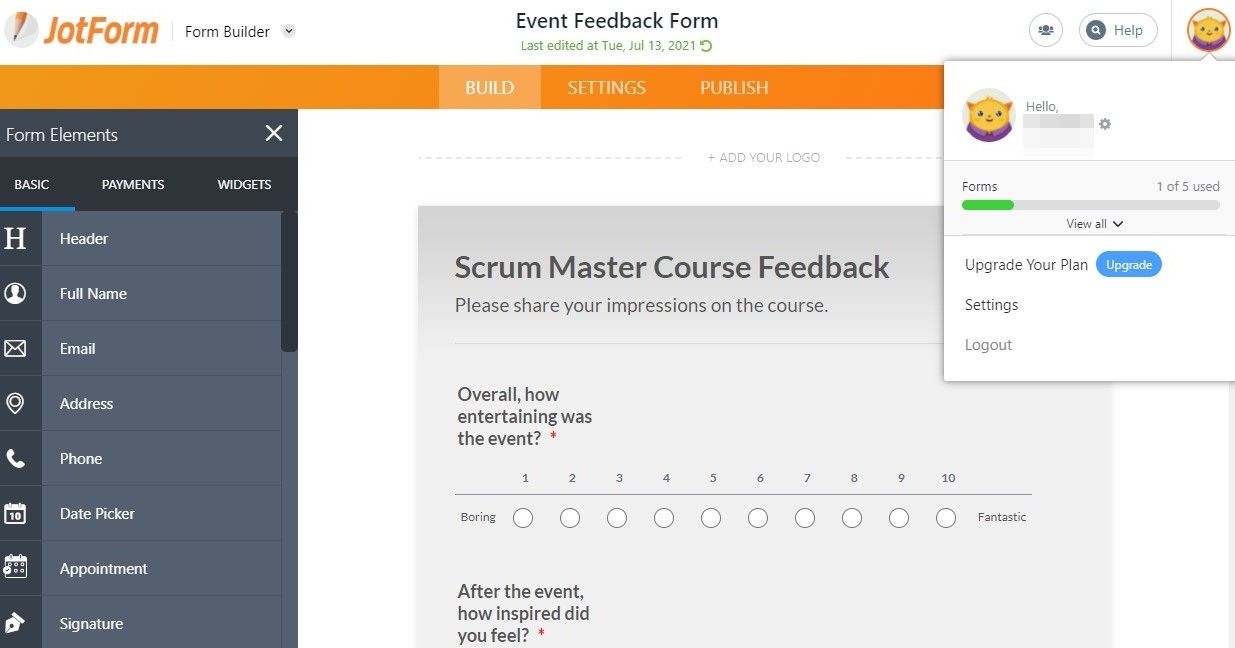 Conclusion:
Well-structured interface, not overloaded with information
Convenient Drag and Drop form builder
Information about the limit for the current plan is easily accessible.

How to create an evaluation form in JotForm
Templates. JotForm is famous for its enormous selection of templates. More than 10 000 premade forms are nicely sorted by types and industries, with a search bar and filters.
For your purposes, you can use Event Feedback, Session Feedback, Course Evaluation, Training Evaluation, Testimonial, Evaluation Survey, and others.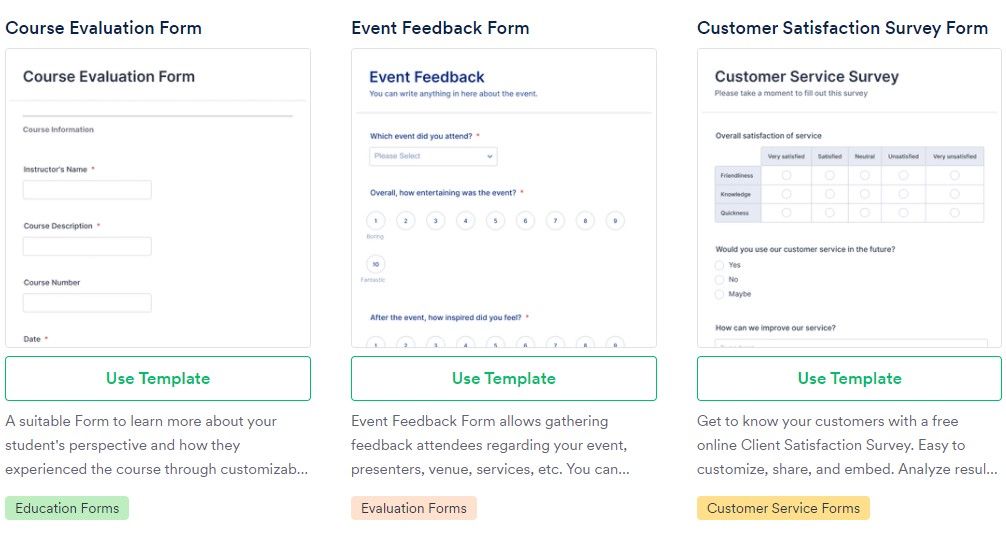 Not only do these templates contain a different set of questions showing various ways to collect feedback, they are also customized differently, offering some styling ideas.
Standard options to start from scratch and import an existing form are present too.
Builder. Elements are divided into 3 tabs — Basic, Payment, and Widgets.
Basic elements include different question types and structure elements like Page Break or Section Collapse. Each element has a set of properties, such as styling options (alignment, width, and height), validation, placeholders, sub labels, and shuffling.
Here you can also duplicate questions.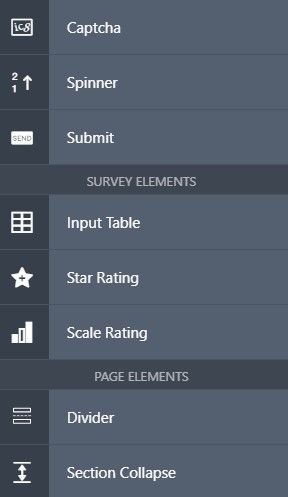 Payment tab is not very useful for an evaluation form. Nevertheless, we'd like to note that the selection of payment providers is wide too, although the number of payment submissions is limited by all plans, except for the Gold one.
Widgets are an interesting feature, allowing you to create really unique forms and giving you possibilities most of the builders cannot offer. For example, Multiple Selection enables respondents to choose several options from the dropdown list. And Animated Heading will give your form a fancy look.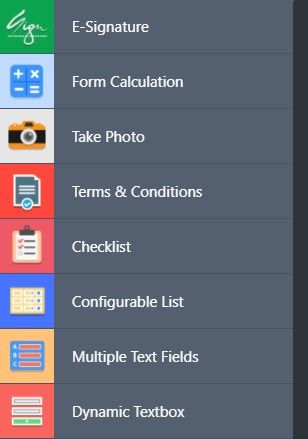 The list of available widgets is so long that it might actually be confusing and will take a lot of time to explore them all.
Customization options are located under the Form Designer - colors, styles, themes, and layout. The choice of themes is not that great but you have the Advanced Designer theme editor instead to create your own theme.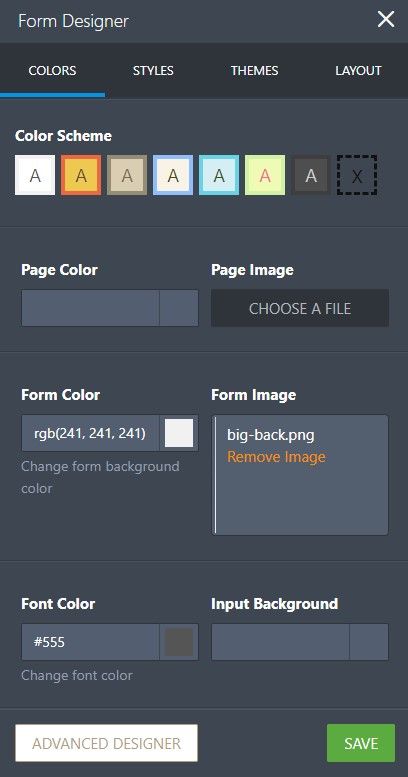 And there is also a field to inject custom CSS for those who are not satisfied with basic customization.
Preview. The form can be previewed at any time by simply toggling off the corresponding slider in the upper right corner. Check out how it will look on different devices, or copy and share the preview link.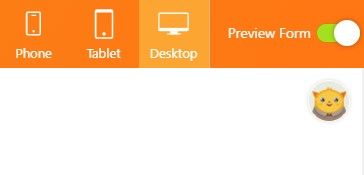 Settings give you more room to interact with respondents (e.g. configure an Autoresponder message or custom Thank You page).
Option to add a translation is especially useful if you are working with a multilingual audience. If you add translation in Settings, your respondents will be able to switch between different languages.
And conditions allow you to skip and hide fields and pages, make fields required, calculate data, or change a Thank You message based on responses.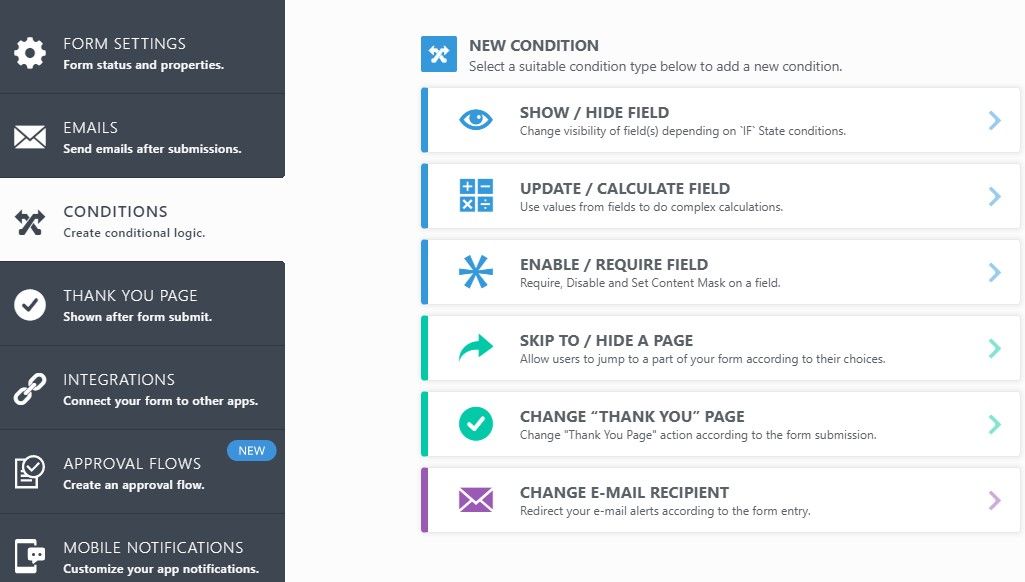 Storing. Forms can be copied, disabled, archived, or deleted. Archiving a form is a good workaround if you have reached the forms limit but don't want to delete already existing forms for good. Deleted forms go to Trash where they are stored for 30 days before being purged.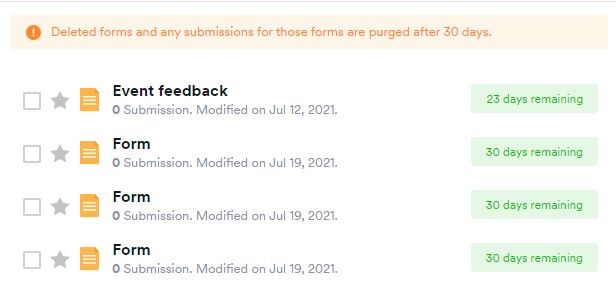 In addition, the system always asks for your confirmation when you want to delete something.
JotForm branding. On the free Starter plan, all forms you create are marked with the JotForm logo. To remove "Powered by JotForm" mark, you need to subscribe to any of the paid plans. After that, navigate to Settings tab in your account settings and remove a checkmark next to JotForm Branding.
The JotForm logo will be removed from your forms.

Conclusion:
Templates for literally every situation possible
Different types of questions and other form elements with properties
Long list of widgets to create dynamic forms
Customization settings with the Advanced Designer and custom CSS field
Multilingual forms
Extensive conditional logic
Archiving forms and storing deleted forms for a month.

How to send a JotForm

You will find delivery options under the Publish tab for each form. As with anything else, JotForm takes the standard practice and extends it:
Share a link with anyone or with those within your organisation
Simply embed a form on a website, add a WordPress plugin, or a pop-up
Send an email and add a reminder to make sure nobody forgets about submitting their evaluation
Download a fillable .pdf file which you can distribute later or print out
Publish your form on 3rd party platforms like Facebook or Google Sites.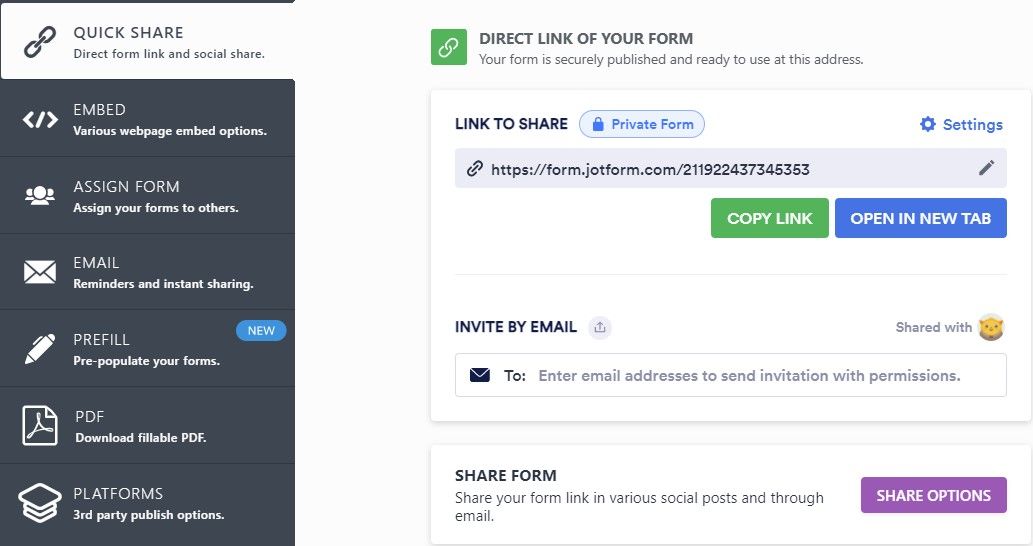 Conclusion:
All standard methods to distribute forms are available
Each method can be customized.

How to analyze responses in JotForm
Analyzing the collected data may require some fine-tuning from your side, but the results are worth the effort.
To access replies, you should click on the More button next to your form in the Main Menu, then choose how to view responses.
Tables is another JotForm product which main purpose is structuring and managing data. It looks similar to Google Sheets and presents the responses in the form of a table. You can add new columns and rows, edit the existing ones, apply formulas to calculate total score.

It's also possible to reverse the workflow —  create a table first, then connect it to a form to populate columns.
Inbox looks like your ordinary mailbox where each submission is a new message. You can reply to it, tag it, comment, forward, and do pretty much anything you can do with an email message. Using an Inbox could be useful when you need to send certificates.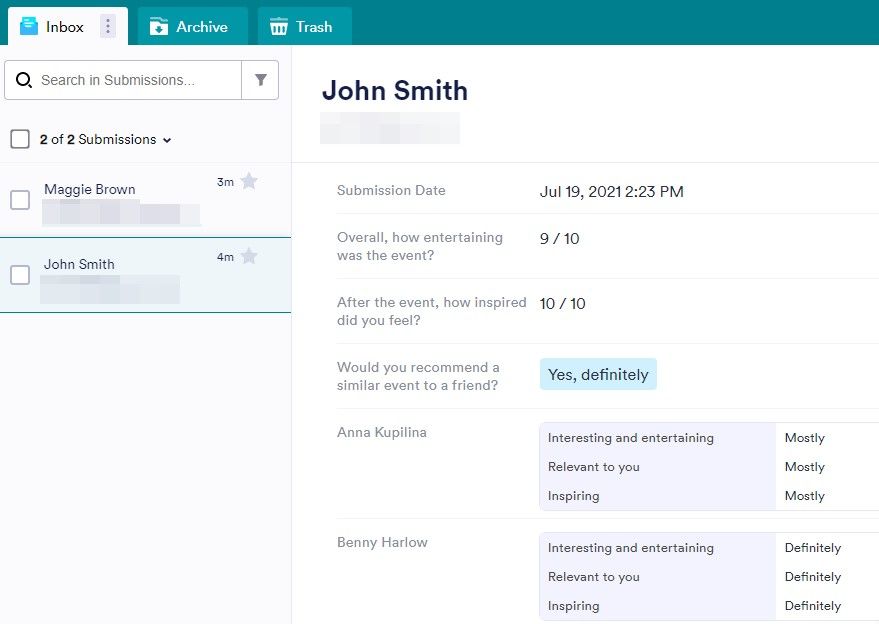 Form Analytics show general information like number of views and responses, respondents' location and device, and average time spent on filling out a form.

View reports. Here you can create diagrams and pie charts everyone loves so much, as well as export submissions as a CSV or XLS file.
Change chart types and colors, add labels, insert images — present your data however you need, download as .pdf, or share a link.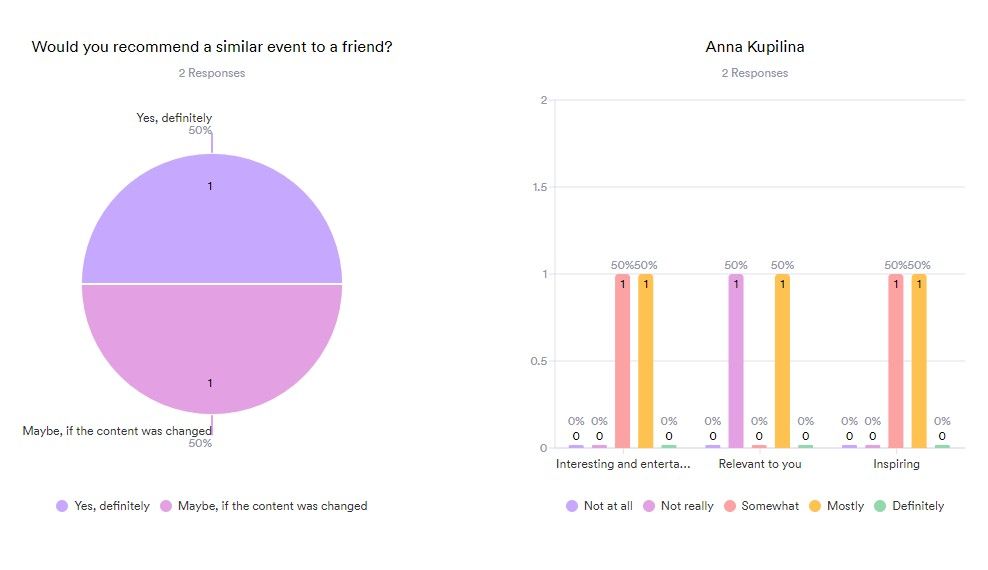 Conclusion:
Responses can be displayed in customizable tables or charts
You can view each submission individually and reply to it in the inbox
Data can be exported in CSV, XLS, and other formats.

Is JotForm secure
Security. JotForm explains in detail how it protects your data and gives recommendations on how to tighten the security. The company uses a secure connection for all its forms, but you can add an extra layer by making your form encrypted, or setting a password.
Sharing access to a JotForm is extremely easy — just click on the Add Collaborators button, copy a link, and share it. The other party doesn't even need a JotForm account to edit a form by this link.

If there is someone else working on your form right now, you will see their avatar similar to the one in Google products. The field another person is editing is highlighted as well.
You can share not just a form, but also tables, where more settings are present - make it available only to invited people, enable Read Only option, or set expiration date for a Share link.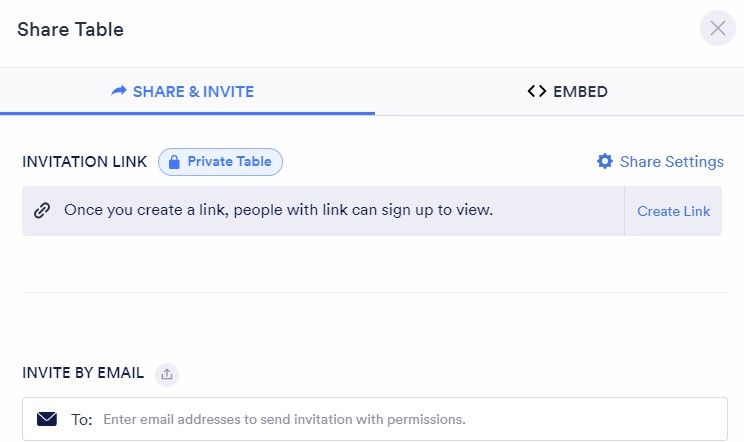 Conclusion:
Secure connection for all forms
You can raise the security level with encryption or password protection
Several people can collaborate on a form
Tables allow collaboration with more extensive settings.

JotForm integrations
JotForm can be integrated with more than 100 apps divided by categories, platforms, and industries. Some of the apps allow you to jump to creating a form right from the Integrations page. For example, you can get your responses for a certain form transferred directly to Google Sheets.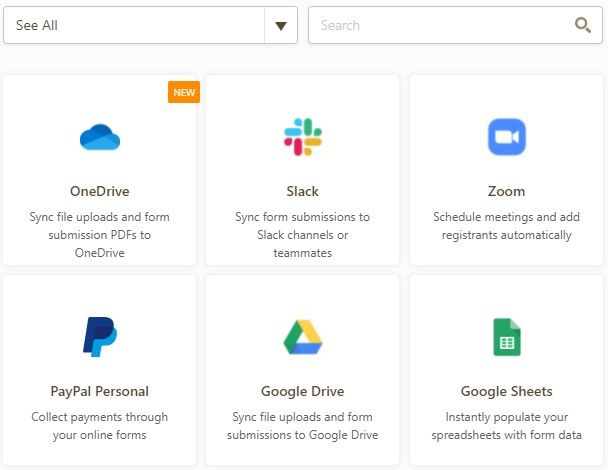 If you have not found the app you are looking for, it's possible to add your own integration.
Conclusion:
A lot of popular apps available for integration
Option to add your own integration.

Final thoughts
JotForm has found its niche in the survey business and excels in it by offering some unique solutions like widgets, tables, or PDF editor, in addition to the vast selection of templates and other features.
What's more, all of these are available on the free version giving you a chance to test the service before making a decision of buying a subscription.
What it offers:
3 Paid plans and a free plan with full access to all features
Well-structured interface
More than 10 000 templates
Rich form editor with customizable fields, Advanced Designer, and a field for custom CSS
Extensive conditional logic and multi-language forms
Several publishing options: email, link, embedding a code, third party platforms, fillable PDF
Data analysis in tables and charts, options to export results in several formats and reply to the submitted evaluations.
PDF editor
Secure connection and additional protection methods like password and encryption
Possibility to collaborate on forms and tables
Wide choice of integrations.
Is there any downside?
JotForm limits the number of forms and responses you can store, depending on your plan
The number of available features, templates, and options might be too large to quickly find something you need
If you downgrade your plan, you can keep only the data available for your plan limit.
As a stand-alone evaluation tool, JotForm is a good choice. It's professionally-made and accessible, without any serious flaws except for the storage limit.
And if you want to combine evaluations with other event management processes to handle them all in one place, take a look at Workshop Butler's form builder. It's designed specifically for the needs of training business and allows to automate the feedback collection.