Online forms are used for hundreds of purposes — collect feedback, accept orders, schedule appointments, create quizzes. The list can go on and on.
It's only logical that form builders strive to bring functionality suitable for them all. Consequently, each builder contains an overwhelming number of features among which you should choose those that fit your purpose.
But wouldn't it be more efficient to use software that has been designed specifically for your business? The one that contains all the necessary instruments with only relevant features?
Workshop Butler is such a solution for training companies. It's an all-in-one system that provides a seamless transition from one stage of event management to another, at the same time delivering a personalized experience so that our customers feel complete freedom working with WSB.
For quite some time, we have been focused on reworking our evaluation forms to make them more flexible. And now we're ready to show the renewed version of WSB evaluation forms to the world!
Table of contents:
Fully automated process
All-in-one system
Form builder just for trainers
Structured results
Promotion material
Final thoughts
Fully automated process
One of our main principles is that you should not waste time doing something by yourself if the system can do it for you. It applies to gathering feedback too.
Automation handles the following operations:
Chooses an evaluation form template that matches an event settings
Sends an evaluation request from your own email domain the next day after an event
Reminds attendees about this request twice
Approves an evaluation upon receiving
Sends a post-event email with a certificate, if there is one.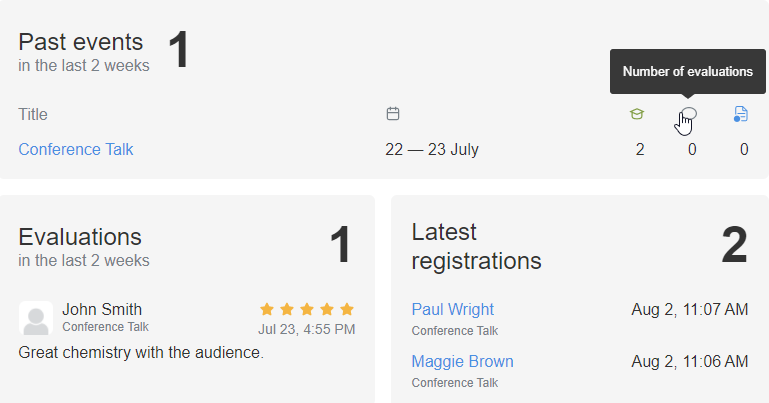 If you don't want to configure your own form or you are not sure what to ask, the system will use the default template containing two most important questions — Rate your overall experience and Share your overall impression.
Thus, the whole process of collecting evaluations can be done by Workshop Butler without your involvement. However, it does not mean that you cannot control it by yourself. Every step can be configured and handled manually:
Create your own templates
Configure the text of an evaluation request
Send a link to the form
Generate certificates.
It's possible to mix up these two approaches by doing some operations manually while allowing automation to perform other steps.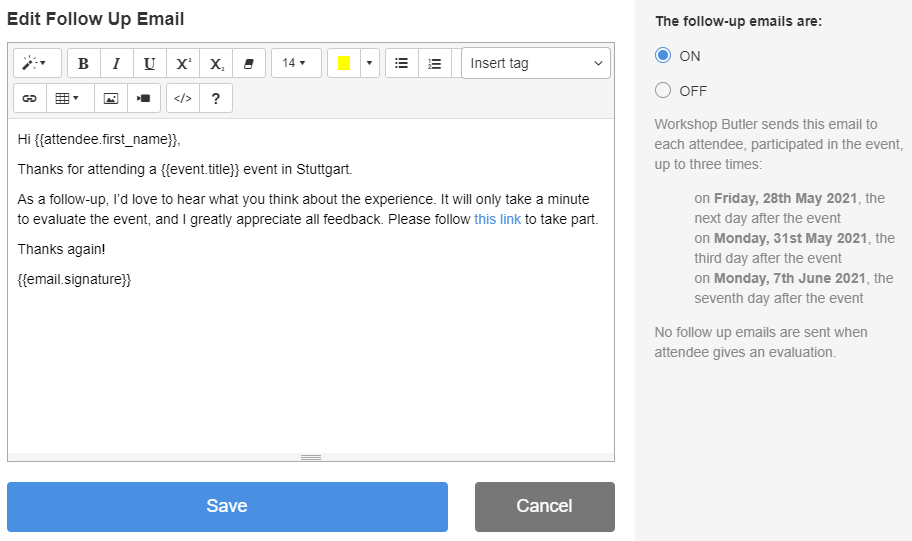 Conclusion:
Workshop Butler is a highly flexible software where you decide the level of your involvement:
completely entrust feedback collection to the system
adjust some steps to your needs
perform all the operations manually.

All-in-one system
One of the biggest advantages of having all the tools in one place is that the event data can be instantly accessed and utilized.
Make your data work for you. When it's time to collect evaluations, WSB uses the information submitted by attendees during registration. It creates an email list to send requests and generates personalized messages with attendees' names.
Apart from saving your time, it saves your attendees from having to fill in the same information twice.
Store as much as you need. Submitted evaluations can be viewed by events or by attendees. There are no limitations to how many responses to collect or for how long to keep them.
Collaborate with others. "All-in-one" solution applies not only to features but to users too. WSB brings together people who work in this industry — trainers and training companies, allowing them to exchange information within the system. You can give access to the data in your account to your colleagues and they will be able to manage forms on your behalf and analyze results.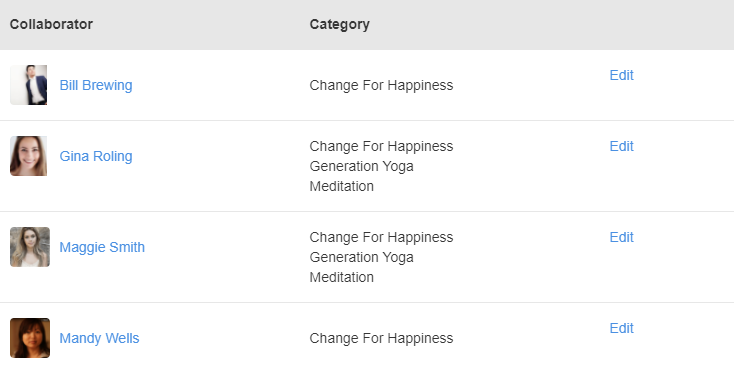 Conclusion:
All information about events is stored in WSB and can be accessed anytime
Data gathered on earlier event stages can be used to collect evaluations more effectively
WSB users can share access with others to work on events together.
Form builder just for trainers
Up till now, we've been talking about what WSB can do for trainers. It's time to tell what trainers can do with WSB. And that's the aspect which has been refined and improved recently.
With fully customizable evaluation forms, only you decide what to ask your attendees.
Add templates. Each form has several general settings:
Private/public event
Free/paid event
Event type.
By defining these parameters, you will let WSB know for which event you plan to use this form.

After you finish configuring a form and saving it as a template, it will be automatically applied to the events that match the template settings. Thus, you don't need to create a new form for each event.
The number of templates and the number of questions is not limited so feel free to experiment with configurations.
Add questions and sections. The initial set-up includes several most common questions, which you can use as a basis for your template, then extend it with your own questions.
Of course, it's also possible to remove them. The exception is two fields which we mentioned earlier — Rate your overall experience and Share your overall impression. They are present in every form because the system uses them to calculate event ratings and create testimonials.
For custom questions, we offer several question types:
Short Text and Long Text
Dropdown
Checkbox
Rating, Star Rating, and NPS/Percents.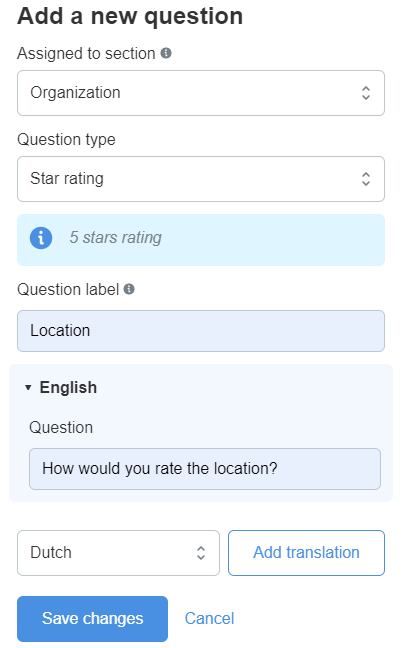 The selection is not as wide as in SurveyMonkey or JotForm, but that's because our goal here was not to impress you with the variety of types, but to give you only the choices most relevant to event evaluation. With them, you can ask attendees to share their thoughts in a free form, state their preferences from predefined options, rate different event aspects, or give their consent.
To logically divide questions and add structure to your form, use sections. Not only do they allow respondents to concentrate on a certain topic better, but they also help you make sure that you have covered all the points you wanted to know about.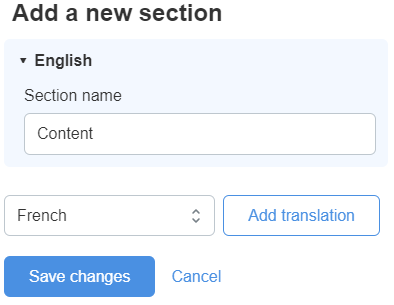 Form elements can be reshuffled with the Drag and Drop feature which seems to be a must-have for the majority of the form builders. And no wonder why — it's intuitive and very simple to use.
Add translation. Asking the right questions is only one part of the challenge in collecting evaluations. You also need to communicate these questions well to receive answers to the point. And for this, nothing can be better than speaking to attendees in their language.
Workshop Butler enables you to add translation to one or several languages for all elements in a form. When it's time to request evaluations, the system will use the spoken language of the event to choose the language of the form.
Right now, 7 languages are supported: Dutch, English, French, German, Portuguese, Russian, Spanish. But it's not the limit. You can always contact us and request to add a translation to another language.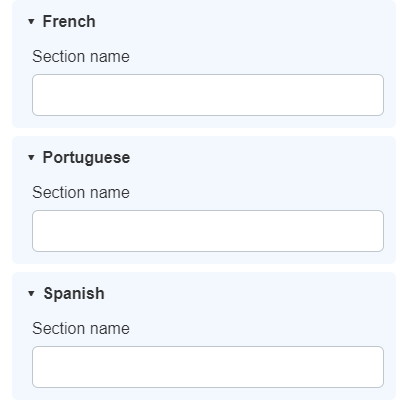 Add labels. When configuring a form, it would be nice to think a little bit ahead - about the time when you will view the collected evaluations. For your convenience, each question in the form has its short version — a label. It shows up when a trainer checks evaluations or exports them. Labels serve for a more concise representation of information, without long lines of text.
Conclusion:
Create templates with different settings so that WSB could use them for the corresponding events
Use pre-written common questions as a basis for your own form
Add your own fields with 7 question types most suitable for evaluations
Add translation to several languages to be sure that you get your questions across
Add labels for better representation of results.
Structured results
WSB may fall short in analysis, especially in comparison with professional form builders. But it does a great job in organizing your data.
You can view the participation history of an attendee to compare several evaluations submitted by one person. Or check the evaluations for an event and sort them by rating, submission date, or attendees' names.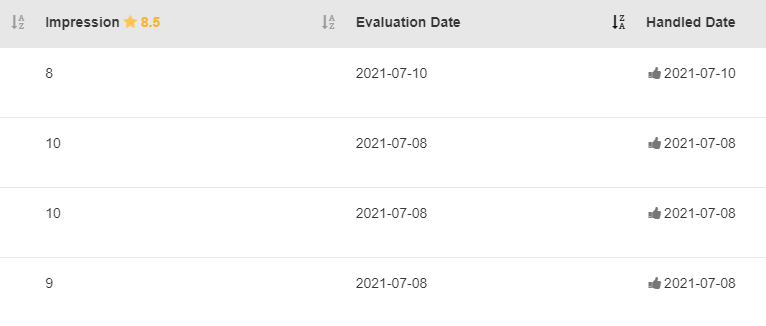 And of course, the data you collected can be exported in .csv format. It's up to you to decide which information you want to include in the file — event fields, attendees' data, or evaluation results.
Conclusion:
WSB lacks in analysis aspect but structures all the data and allows to view it from different angles
The data about events, attendees, and evaluations can be exported in .csv.
Promotion material
Strictly speaking, the evaluation process can be considered completed when all attendees have submitted their feedback. But WSB doesn't stop there and uses the evaluation results as promotional material for future events and for trainers who run them.
Social sharing. Trainers and training companies don't even need to do anything for this one. After an attendee sends an evaluation, they are offered to post their positive impressions about an event on social media. We have made sure to design a nice looking post that just asks to be shared.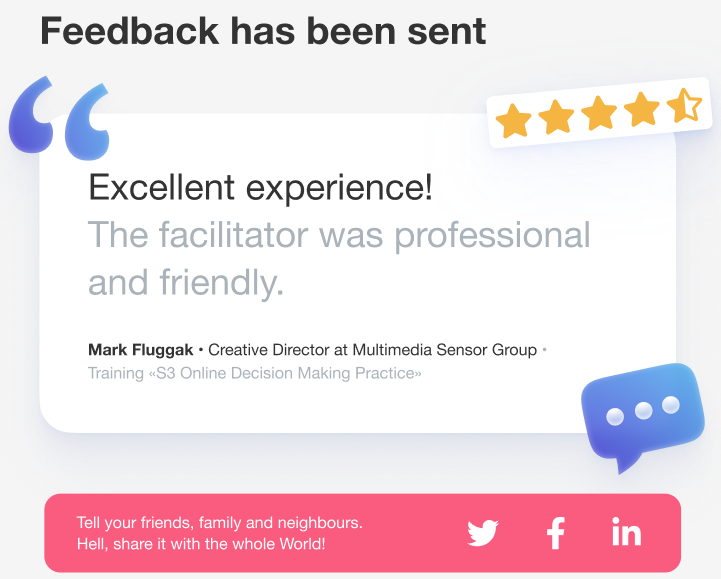 Event rating is calculated from one of the obligatory fields in every form. It's added to trainer profiles and can be shown on websites that are integrated with Workshop Butler.
Testimonials do need actions from your side, but no more than several mouse clicks. If there is a review that caught your attention, just click Convert to Testimonial and it will appear on your profile. To prevent possible legal issues, WSB asks for attendees' consent to use their review as a testimonial.
Conclusion:
Attendees can share positive reviews about your events on social media profiles
Overall event rating submitted by attendees is added to the total rating for each trainer
You can turn reviews into testimonials to display them on websites if your attendees gave their consent for it.
Final thoughts
Workshop Butler is not a service that shows you what it's capable of, then leaves you to decide how you are going to use its capabilities. It's a solution that clearly demonstrates what it can do for your training business and how it's going to make your professional life easier.
Every tool it incorporates has been boiled down only to the features that training business needs. And each one of these features is utilized by WSB to handle as much administrative work as possible, delivering you the results with superb quality.
So, what is it that Workshop Butler can now offer to trainers and training companies in terms of collecting evaluations?
Fully automated process of gathering feedback from sending a request to issuing certificates, with the possibility to control every step manually
Storing all data about events, evaluations included, inside the system and using it to enhance trainers' and attendees' experience
Collaboration on forms with other WSB users
Unlimited number of templates for different event types
7 question types with additional settings (translation to different languages and adding labels)
Sections to add structure to a form
Results sorted by events and by attendees
Export all event data in .csv format
Possibility for attendees to share their reviews on social media
Option to turn reviews into testimonials after receiving attendees' consent.
WSB evaluation forms have been designed with trainers' needs in mind. Even without additional changes from the user side, the system will be able to handle evaluation requests on the basic level and ask the most important questions.
By the time Workshop Butler hands results to you on a silver plate, your students will already be enjoying their certificates and sharing stylish posts about attended events on their social media profiles.
Please find more information about WSB evaluation forms here.