Trainer's communication with an attendee exceeds the time frame of an event, starting before a session takes place and continuing after it ends. It contributes to the overall impression, helps maintain smooth interaction throughout the class, and can be a marketing tool.
Which words will help establish a mutual understanding? When to send them to achieve the maximum effect? Which channels and tools will be the most convenient for both parties? How to be sure your message reaches the recipient? Let's try to find out.
Event communication channels
At various stages of event preparation, you can address your potential customers using various channels, such as emails, social media, websites, or group chats in messengers.
Social media covers a large audience, playing a big role in promotion. Unlike an email which can be read only by its recipient, a post is available to anyone. Social platforms are more suitable for informal communication, making it easier for potential students to contact you and ask questions.
Group chats are also fit for casual conversation. They are perfect for creating a sense of community allowing attendees to keep in touch even after an event ends. If you have an announcement or materials to share with everyone, sending them to a group is faster than informing each student individually.
Your website is the place where you don't have any limits on the number of symbols or file formats. You can use any info which will give a better understanding of what your training is like. Establishing a stable flow of website visitors might take time, but it's possible if you have done a proper job with SEO: keyword research, publications of relevant content for the target audience, and regular analysis of website statistics.
Email is the primary channel of communication with registered attendees. It has a number of advantages over others:
Ubiquitousness. Almost everyone has an email address, unlike a social media profile or a messenger account.
Synchronization. You can email someone no matter which provider they use, whereas each social media platform is self-contained, and you cannot contact someone outside of it.
Effectiveness. Emailing software is designed both for communicating with a single recipient and for bulk sending.
Comfort. People often have an email specifically for professional activities. They will be more willing to share it than other contact info.
While our focus in this article is emails as the most common channel of event communication, we will briefly touch upon other methods and show how and when to use them.
Pre-event communication
Pre-event communication is divided into two stages — promotion and messages to those who have already signed up.
You can employ different methods during the promotional part. After a person is registered, you will need a way to connect to your participants only. In most cases, it is done either via e-mail or group chats.
Event promotion on social media
Social media are suitable for short posts, each one highlighting one benefit of the upcoming session. They can feature the following:
Information about the training program (key points, topics, knowledge and skills participants will acquire)
Information about speakers and their expertise
Discounts (what discount is active right now, and which one is the most beneficial)
The number of tickets left (especially effective when tickets are almost sold out)
Testimonials from previous attendees
Photo from past events.
You can add value to your posts by writing short stories or recommendations on the chosen topic. It will be easier for people to relate to a story than to a marketing description, and recommendations will demonstrate your expertise even better than testimonials.
Event promotion on a website
Website is your main base of operations before an event starts. Potential attendees will find all the details there, buy tickets, and sign up. It's extremely important to ensure the website is mobile-friendly and easy to navigate so that nothing can sway a visitor's decision to participate.
Read our recommendations on how to create a compelling description for your event.
In addition, you can provide extensive information on speakers and implement the event calendar, where visitors can see other classes.
Event promotion in group chats
If you are striving to create a community of like-minded people for your students, you will need a platform to gather them all (e.g. Slack). This platform can be used for announcements of upcoming events and sending invitations. Since all the members in such a community have already participated in your sessions, you can skip some general details and highlight other, more subtle advantages instead.
Pre-event emails
Pre-event emails serve more goals than just promotion because they are addressed to particular people: greet those who have already signed up, provide them with necessary instructions, and send reminders.
Pre-event promotional email
If you already have an audience interested in your activities (past event attendees, newsletter subscribers), you can invite them to your next session. This kind of promotion is better targeted than a regular marketing campaign.
The two important things when dealing with promotional emails are getting permission from a recipient to send them promotions and including the Unsubscribe option in your messages. This will save you from spam complaints, that can damage your domain reputation.
What to write in the event promotional email?
A short summary of the upcoming event
A link to a page with event details
Information about discounts
Contact info to get in touch with you.
Do not forget about the main rule of event marketing — it's not about you, but about your client. Try not to make a promotional email too long, adding only the essential details (date, location, topic) and the most attractive points (discounts, famous speakers, bonuses). Your goal is to get a recipient interested and show where they can learn more.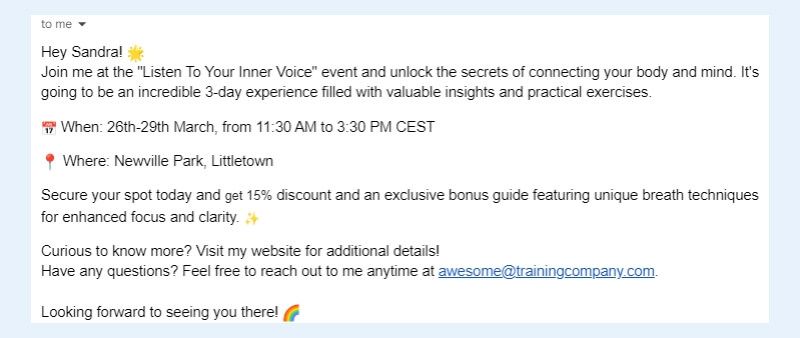 Registration Confirmation (Welcome email)
The first thing to do after an attendee completes the registration is to confirm that it went fine.
Here are several steps you can take during the registration process to ensure that your communication starts smoothly:
1. Indicate how you contact an attendee after the registration is completed. It can be a text on the registration page or a pop-up window after the form is submitted ("We sent a letter to your email address").
2. Indicate the time frame within which the email should arrive. Ideally, it should be as soon as the registration form is submitted, but if you expect delays, warn about them to save your future students from worrying.
3. Remind to check the Spam folder.
4. Explain what to do if an email doesn't arrive within the indicated period ("Email me at…").
What could go wrong? An attendee misspells their email address. An issue arises on the servers of your email provider. The recipient's provider rejects your letter. Take measures beforehand to lower the chances of misunderstanding because of such mishaps.
What to write in the Registration Confirmation email?
The registration confirmation email can include the following components:
Thank You message. Express your gratitude ("Thank you for signing up", "We're happy to welcome you") or use any other kind words to let people know you are glad to have them at your event.
Event name, date, and location.
Further plan of action. Reassure students that you will remind them about the session. Specify when to expect a link to an online meeting. Let them know if you are going to send additional materials so that they arrange some time to look through them. If you don't have exact dates, at least indicate an approximate time frame ("I will send you detailed instructions soon"/"In the next email, I will share the materials you will need in the class. Please, look through them before the start"/"I will send the meeting link within the next couple of weeks.").
Questions you haven't asked during sign-up. A long registration form might discourage potential students from completing it. Instead, you can move some questions to the welcome email. Those who consider this matter important will reply. For example, attendees with dietary restrictions or preferences will most likely inform you about them.
An encouragement to send questions attendees would like to hear about. Knowing this information beforehand can help tune up the program to your audience's preferences and avoid unexpected questions during the Q&A session ("If you have something you would like to know in particular, do not hesitate to reply to this email and share what's on your mind. I will see if we can incorporate this information into our session").
Contact info. Specify how attendees can contact you or include the preferred contact method in your e-mail signature (we will talk about it later in the article).  
A calendar invite, which allows students to add a meeting to a calendar. It usually includes the date, time, and location (or meeting link). You can create it in your calendar app and explain its purpose to a recipient ("Do not forget to add this meeting to your calendar app using the button above")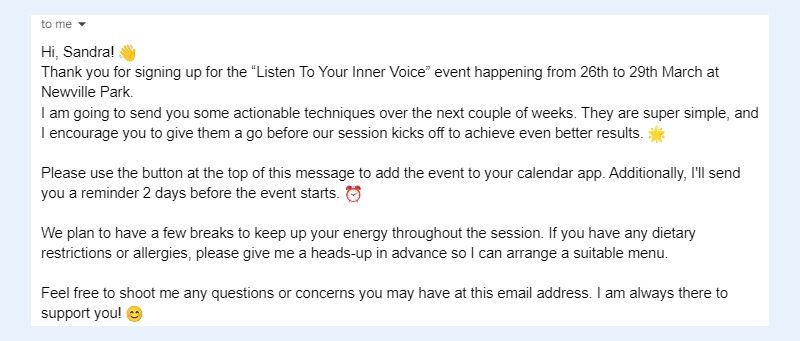 Event reminder
The number of emails after greeting a newly registered student depends on what else you have to say or how much time is left. If a person registers long beforehand, you can stay in touch with them to maintain their interest.
Send the last reminder one or two days before the start. Add any important instructions there, even if you sent them before.
What to write in the event reminder?
You can add the following details to the event reminder:
Date, time, and timezone.
Link to an online meeting.
Address of an offline venue.
Necessary items and tools.
Required software.
Recommendations on how to prepare for a virtual event: check the microphone, earphones, and camera, check the Internet connection.
Recommendation to join an online meeting or to come to a venue 10-15 minutes earlier for technical check-ups and organizational moments.
Your own feelings and expectations ("I hope you are as excited as I am about this session").
Additionally, you can attach an explanation of how to get to a physical location. If your online class requires special software, explain where to download it and ask to create an account beforehand.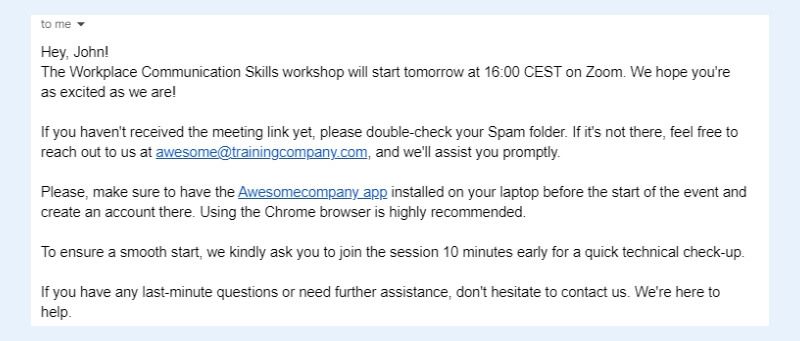 Event Cancellation email
A Welcome email and reminders create a positive connection between you and an attendee, showing them that you care. But not all communication is this pleasant. If an event gets postponed or canceled, you also have to break this news. The way you do it can either push a potential customer away or encourage them to try again another time.
What to write in the event cancellation email?
Title, date, and location.
The reason for cancellation or postponement. Whether it's technical difficulties or an insufficient number of attendees, a proper explanation helps people better understand why it happened.
Further course of action and possible options like transferring to another date or getting a refund.
Refund procedure. Financial matters are often the most delicate ones. To lower the chances of causing further frustration and avoid negative publicity, provide a detailed step-by-step guide on how students can get their money back.
Apologies. Put your effort into conveying that this situation is just as upsetting to you, as to your attendees ("I regret to inform you that the event has been cancelled"/"I am really sorry to inform you that we have made a difficult decision").
A discount or a promo code to one of your next events as a token of goodwill. Of course, this is not obligatory but will be greatly appreciated.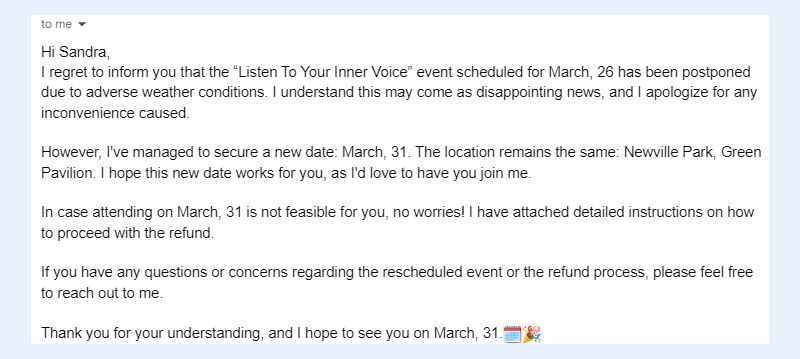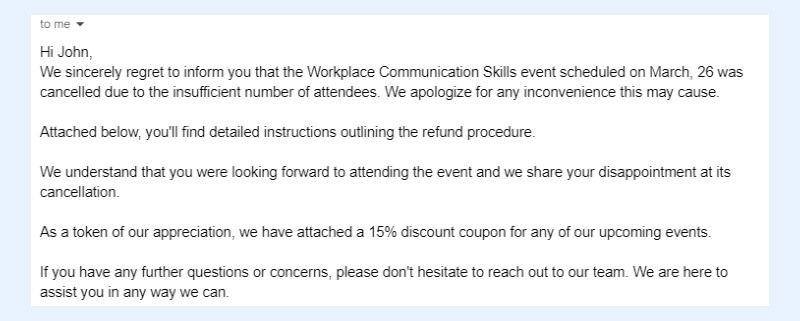 Pre-event communication in group chats
Group chats are another way to share event information: instructions, materials, notifications, and reminders. This method has its pros and cons in comparison to emails.
Pros:
You need to write only one post instead of sending a letter to every person.
Posts in such groups are usually shorter and more to the point.
You can always be sure that your messages are delivered.
Attendees get a chance to know each other before the session.
Cons:
If group members actively engage in a conversation, posts with important information will be lost.
Some people mute notifications if there are too many messages.
It can be difficult to find and answer all questions.
Some people might feel uncomfortable asking questions in front of everyone.
Consider using chats for small groups, where tracking down messages and questions will be easier. Pin important information or use any other way to make it easily accessible. Emphasize that attendees can also contact you privately if this is easier for them.
Communication during an event
There are not many occasions for event communication outside the class unless your event consists of several sessions separated in time.
Group chats during an event
Use group chats between sessions to see attendees' reactions, encourage them to continue, and share your own feelings.
If students need to do exercises or look through materials before the next class, provide support and help them with questions, noting for yourself where they struggle the most and adjusting the program.
Emails during an event
Emails can serve the following purposes:
Remind students about the start of each session.
Provide additional information. If each session requires preparation, divide materials into several parts instead of dumping them all into one email at the start.
Ask for short feedback after the end of each session. It might be a suggestion to share concerns, rather than a request to fill in an evaluation form. This way, you will detect if anything goes wrong and make adjustments in time.

Post-event communication
Pre-event instructions and reminders are sent mostly for students' sake. Post-event communication is more important to a trainer, providing them with valuable feedback. However, keeping attendees' attention after an event is a tricky task. Tell your audience about upcoming messages at the last session, emphasizing their significance to you.
Post-event communication in group chats
Group chats are convenient for sharing additional materials and for helping attendees stay in touch.
If you have bonuses promised to everyone, you can send them to a whole group. When you have new content released, inform about it to engage more people and get feedback.
Try taking part in the discussions, keeping your presence. It will be useful for the promotion of your next events, as your announcement will look more natural than a sudden appearance after a long silence. In addition, being part of the conversation between attendees will help understand the effectiveness of your training program in the long run and will provide you with materials for your future sessions.
Post-event emails
After an event, there are two occasions when you need to contact attendees individually: request feedback and send certificates thanking them for participation.
Thank You For Participation email
The Thank You message is a conclusion of your interaction with students. While strengthening a good impression from an event, it lays the foundation for possible future contacts.
You can follow different purposes when designing this message:
Express anything you didn't have time for during the class.
Help students reminisce about how it was.
Provide students with options to learn more about the topic.
Give them a chance to get to know you better.
What to write in the Thank You For Participation email?
Depending on the goal of this post-event message, it can contain the following elements:
Expressions of gratitude and appreciation  ("Thank you for attending"/ "It was great to see you"/ "Thank you for being a part of this event"/ "Thank you for joining us"/ "I appreciate your active participation").
Bonuses and materials you promised to send.
Calendar of your upcoming events.
An invitation to subscribe to your newsletter.
An invitation to a community.
If you issue certificates of attendance, attach them to this email. And in case you plan to send them later, inform students about it.


Feedback request
A good evaluation form with the right questions is a source of valuable information. But before students fill out and submit it, they have to open the email containing the corresponding request.
What to write in the feedback request?
Consider including the following elements in your feedback request to incentivize attendees to reply.
Thank them for participation to set a good tone.
Ask to share their impression ("I'd love to hear what you think"/ "I'd really appreciate it if you share your thoughts"/ "I'd be grateful if you could leave the feedback").
Indicate the approximate time frame it will take ("It will only take a couple of minutes"). Not everyone is fond of filling out survey forms, but they might feel more inclined to do it knowing that it won't take long.
Tell how important this data is for you and for the quality of your training program.
Some trainers choose to issue certificates only after an evaluation has been submitted.


Event communication style
The way your messages and posts are designed creates a certain image of yourself and your class before you start it. Various tools can help you with this, enhancing your communication efforts.
Use professional accounts and a custom domain with your company name. It makes a good impression, especially if you are aiming to work with big companies. In social media, professional accounts give you more business options in comparison to personal ones. A custom domain instantly tells a recipient who this message is from, while a general @gmail might look suspicious.
Use the right tone of voice. To choose the tone that will be associated with your brand, study your audience first. What people are they? Young or middle-aged primarily? Do they use professional slang a lot or prefer formal communication? Try to learn as much as you can to find the words that will resonate with them.
Be careful with emojis. These little pictures make your emails more lively, so they work great for marketing emails or messages with positive themes (e.g. Thank You emails). Using emojis in emails with unpleasant topics, like event cancellation, might not be a good idea. In addition, emojis are displayed differently or not displayed at all in different clients and browsers. Try to choose the most common symbols that will most likely be displayed correctly in any app to avoid sending letters with white squares instead.
Create an email signature. Add it at the end of your letters to give them a distinctive feature. It can be not just your name, but also information about you and your brand: photo, logo, contact details, and social media links. Special services like this signature generator will help make it pretty.
How to get your emails delivered
Up until now, we have been talking about the event communication strategy — what and when to send to create the maximum impact. Yet, there is also the technical side — how to make sure the message is delivered.
Getting your posts seen on social media and helping your website rank high on Google are complex matters of SMM and SEO. There is no need to think about them when sending an email, but it still can get lost along the way. Fortunately, there are simple measures you can take to help a letter reach its destination.
Spam filters
Spam filters are something you should always strive to get along with. They protect the inbox owner from suspicious letters. If they see your message as one, they will either reject it or put it into spam. Take some steps to get on their good side.
The following actions can help you bypass spam filters:
Use personalized subjects and preheaders. Addressing a recipient by name is not only good manners but also shows that your email is not spam.
Avoid too many links or attachments. Otherwise, your message might be perceived as containing malicious data. If you need to add several links or files, consider including a button leading to the necessary information.
Avoid too many or too large images. They will take time and traffic to load. You can use services like Tinify to compress the images you want to add.
Avoid unusual formatting, which is difficult to read. There are better ways to draw attention than relying on flashy effects and fonts.
Avoid all caps and excessive exclamation marks. It's hard to figure out a tone behind the writing, and capital letters often create the wrong impression.
These measures don't guarantee that your email will bypass filters, but increase the chances of it while contributing to the text's overall readability.
Domain reputation
The domain reputation affects the delivery rate. You can measure it in various ways:
Check if your IP address or domain name is blacklisted. Emails from blacklisted IP addresses will most likely be flagged as spam. You can run the check via the services such as MxToolbox.
Check your email's health score. Services like Sender Score will help you with this task. Getting all your settings right makes your emails look good for spam filters and lowers the chances of the message being rejected.
Check if the email's content has incorrect HTML, broken links, or subject lines with spam words. Any of these can negatively affect the delivery rate. Websites like MailGenius ask you to send your email to a testing address, where they check all these parameters and more.
Whitelisting
You are not the only interested party in your emails being delivered. Your students also need them, so why not ask for their cooperation?
In the first email you send, add the request to mark your email address as a trusted sender. This will ensure that the following messages will be delivered too. And if you remind attendees about checking the Spam Folder, ask them to move your email from it in case they find it there.
Training management software

Training management software like Workshop Butler automates administrative tasks: registration, communication, feedback collection, and certificates. As all data about the event and its attendees are stored within one system, it uses email addresses submitted during registration to send messages on a set schedule:
Emails are sent automatically based on a certain trigger. E.g. Registration Confirmation is sent after a registration form is submitted, and feedback is requested the next day after an event ends.
Texts of the emails and other settings are customizable, so you can adjust the whole process for your convenience.
Feedback submitted by attendees is organized per each event and attendee.
Certificates are generated automatically based on provided templates and attached to the post-event emails.
One of the biggest benefits of training management software is that you don't have to pay for multiple subscriptions for each stage of event management, but buy only one for all administrative tasks.
Learn more about how Workshop Butler can help you in event communication.