Where your training business will move next after it breaks through start-up challenges and gains momentum? You will need to choose where and how you're going to grow.
The most obvious decision is hiring more trainers to conduct more classes in response to the growing number of clients. This, in turn, will call for hiring more staff to manage all the paperwork. Not all entrepreneurs fancy that idea. Many of them prefer staying small, keeping their focus on training.
But staying small means limiting your growth intentionally. You will have to decline some of the offers that don't fit into your schedule. And your potential clients will have no other choice but to turn to your competitors.
Yet, there is a third way allowing you to respond to all demands without hiring more people for your company.
We're talking about licensing training courses. What is it exactly? In the training business, licensing means selling the right to conduct classes based on your original content for a certain period of time. Organization and management of these classes become a licensee's responsibility. And you, as a licensor, provide learning materials and receive a fee for each session.
Why licensing training courses is a good idea?
Licensing training courses has several advantages to it:
Quickly scale your business without expanding your staff.
Get more clients, possibly in different countries.
Establish two passive income streams: a one-time fee for acquiring a license for a certain period and a fee for training sessions.
Gain new connections by cooperating with more trainers.
Although your business will be growing, you can stay small and even continue your training activity, further increasing the reputation of your brand.
Who can license training courses?
Potentially, anyone can license their learning materials and offer them to others. But to actually sell it, you will need to prove that it will attract students. And for this, your own training services should be in high demand already. If you're just starting out and do not have a lot of customers, finding compelling proof would be difficult.
What can a license include?
When you give the right to conduct courses, you can open access to the following:
Learning materials
Exercises
Workbooks
Games and quizzes
Case studies.
Apart from this, you can provide help with marketing by promoting licensees and their events on your website. If you have a well-established brand, just the fact of working with you will attract attention.
Licensees get the chance to exchange experience and share advice with their peers. And you can organize a common space where they can do it.
Who can become a licensee?
There are two big categories of licensees — individual trainers and companies. The level of your involvement in a licensee's activities will depend on which category you work with.
Individual trainers pay for a license and conduct training sessions, while you stay in direct control of their activities.
To license training companies, you need to solve additional questions :
How many employees of this organization do you allow to license?
To what degree do you delegate the onboarding of new licensees to their employer?
How do you promote their courses?
On the bright side, you have to deal only with license matters on the organizational level. Working with employees becomes the company's responsibility.
What are the requirements for getting a license?
Regardless of who your licensees are, they need to have the right qualification. It's crucial to determine the requirements for acquiring a license.
You can offer a license to those who attended your course (or courses). It will be profitable in two ways: you train applicants first-hand and secure students for your own events.
You can ask to pass a test or a practice exam after completing a course. It will ensure that an applicant has learned the material and is ready to work on their own.
The list of requirements might also include prior experience in the relevant industry. It will allow making the onboarding process shorter and omit some steps. But such applicants might already have some habits that contradict your own guidelines. In this case, you will have to spend time to correct them.
What types of licenses are there?
If you have several courses, you can create separate license types for them and a combined type giving the right to work with different courses.
Another way is to license basic and advanced levels of your training content separately. The basic level should be enough for a good-quality training session. And licensees need to be fully qualified to work at the advanced level.
Alternatively, you can give a certain type of license only if a trainer already has another one. In this case, the second license becomes an addition to the primary one, extending it. This will encourage licensees to attend your other events to get this add-on. And they, in turn, will be encouraging students to attend the additional event too.
How to configure a one-time fee for a license?
A licensee pays a one-time fee for getting a license for a certain period of time, usually for a year. After a license expires, they can choose to renew it by paying the same fee again.
When setting a fee, take into account the volume of content and support you offer, your brand's reputation, and the demand from clients and from applicants.
Apart from these general criteria, you can consider your applicants' circumstances. For example, the country where they live can affect the affordability.
If you offer several types of licenses, you can change the price depending on the complexity and the demand for each license. Or create tiered pricing: the basic tier including access to training materials, and the premium tier with additional materials or extensive support.
How to configure a fee for licensed events?
There are several factors that can affect a licensed event fee and different ways to calculate it.
A flat fee for each event is the simplest solution both for you and a licensee. Each event costs the same, allowing you to calculate the approximate income beforehand. But this simple scheme doesn't take into account many circumstances, like the number of attendees. Some licensees may consider themselves at a disadvantage if they have low attendance. And in other situations, you might be losing out on potential income if events attract lots of people.
That's why it's better to calculate a fee based on a certain parameter.
An hourly-based fee, with which you charge trainers for the duration of a training session. You can set a threshold of how many maximum hours you charge for. If an event exceeds the limit, extra hours won't be included in the fee. This parameter allows you to predict potential income because you know how long each session lasts. On the downside, trainers might start planning their sessions based on duration alone.
An attendee-based fee seems to be the fairest and the most comfortable for trainers. They pay only for what they earn, while the previous two methods make them pay a fee even if they don't make any profit. Although, this method is less predictable and doesn't allow you to plan your budget far ahead.
There are two more factors you can take into account:
Country. If your licensees run events worldwide, the rate might differ depending on the location.
Online/offline. Online events can cost less than in-person ones due to the fact that organizers save on venue and related costs. But it's important to remember about hidden costs of virtual events, many people tend to forget about.
You also need to decide whether you allow free events and how you will handle cancelled classes. A licensee might want to run a free session to promote the main event. You can choose to take a fee for every class where your content is used or charge a licensee only for what they earn. And the possibility of cancellation is one of the most disturbing ones for a trainer. That's why you should make it clear whether you will take a fee for scheduled but cancelled classes.
How to write a license agreement?
You need to secure your and a licensee's rights and obligations in a written agreement a licensee should give their consent to. Without it, disputes and misunderstandings can arise, potentially leading to legal issues. Clearly state every point and include all possible cases, such as:
Explicit definitions of each term used in the agreement.
Is this agreement exclusive (only this licensee has the right to provide services based on your license) or non-exclusive (there are multiple licensees using your training content and competing with each other)?
Is this agreement transferable (a licensee can delegate their rights to others) or non-transferable (a licensee cannot transfer their rights without a licensor's consent)?
A territory where a licensee can conduct licensed events.
Payment details: the amount of a fixed fee, an event fee, conditions on which fees are calculated and can be changed, a period within which they should be paid, and details of the payment procedure.
Start and end dates of a license agreement.
Renewal conditions.
Conditions for suspending and terminating the agreement.
What data is considered confidential, and how are you going to handle it? Who will have access to it and for what purpose?
Quality standards a licensee must adhere to.
Intellectual property rights and consequences of infringement.
An indemnification clause.
Emergency circumstances and the corresponding procedures.
Needless to say, the safest way would be to consult a lawyer who will be able to wrap it all up in a clear and comprehensive document.
How to set up a license renewal?
All the preparations mentioned above are necessary for acquiring a license. This step will lay the foundation for effective cooperation between you and a licensee. But you also need to think about what to do when this cooperation comes to an end.
Reminding about license expiration a few days or weeks before is a good practice. It gives a licensee time to make a thought-out decision about renewal. You can also send a couple of notifications soon after a license expires.
Sometimes, a trainer might choose to renew a license after a considerable amount of time. You can ask to complete additional training to catch up with the latest changes. Set a period within which they can renew a license without it and include this information in an agreement and renewal notifications.
How to manage licenses?
The trickiest part in licensing is managing it once you get the ball rolling: keep an eye on each event, monitor expiring licenses, clarify licensees' plans after expiration, and onboard newcomers.
Sounds like not much of a hassle if there are 5 licensees you are working with. But what if there are 25? Of course, you can keep all records in Google Docs. But the amount of data you will need to keep track of might soon become overwhelming. Not to mention that you have to synchronize information from various sources.
Will you be able to avoid hiring more personnel for administrative matters? Yes, if you use an automated solution. For example, Workshop Butler. It provides a platform for both licensees and a licensor, where they can manage organizational tasks and keep all event- and license-related data in one place.
Let's see how it deals with all the steps mentioned above.
Training management
Licensees can handle the whole event management cycle without using any other services:
You have access to all event information and can work with licensees on all stages from acquiring a license till its expiration.
Licensee registration, management, and promotion
Add and manage licensees' accounts in Workshop Butler. A licensee can either be a trainer or a training company. In the case of the latter, a company receives its own account, from which it adds trainers. Although licensees manage their accounts by themselves, a licensor has control over it too.
Promote licensees and their events on your website.
Assign badges to show your licensee's qualifications.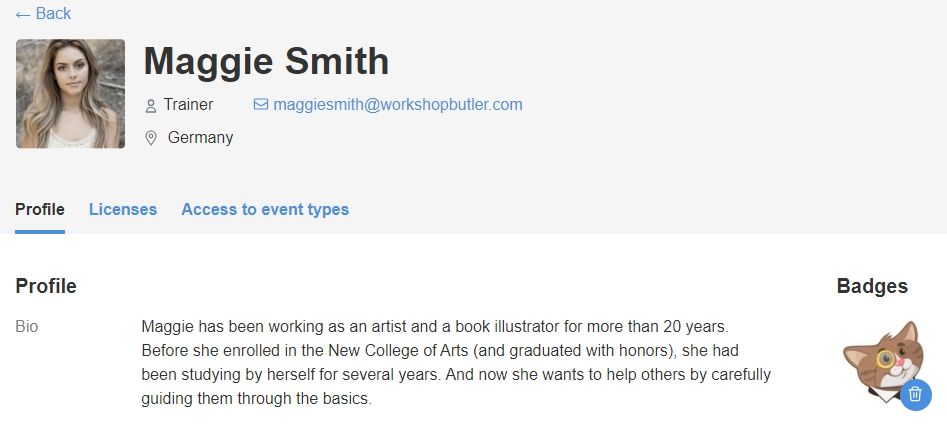 License renewal
Automate the renewal process. A licensee can renew a license by giving their consent to a license agreement again.

License types
Create license types and assign licenses of different types to licensees. For each license type, you can configure an agreement, renewal notifications, and a renewal period.
Create add-ons, that will work only if the main license is active.
Write a license agreement. For each license type, you can configure its own agreement.
Configure renewal notifications to remind licensees about upcoming expiration. You can set time frames when each notification should be sent.
Set a renewal period, during which licensees will be able to renew a license by themselves, without the need to get in touch with you first.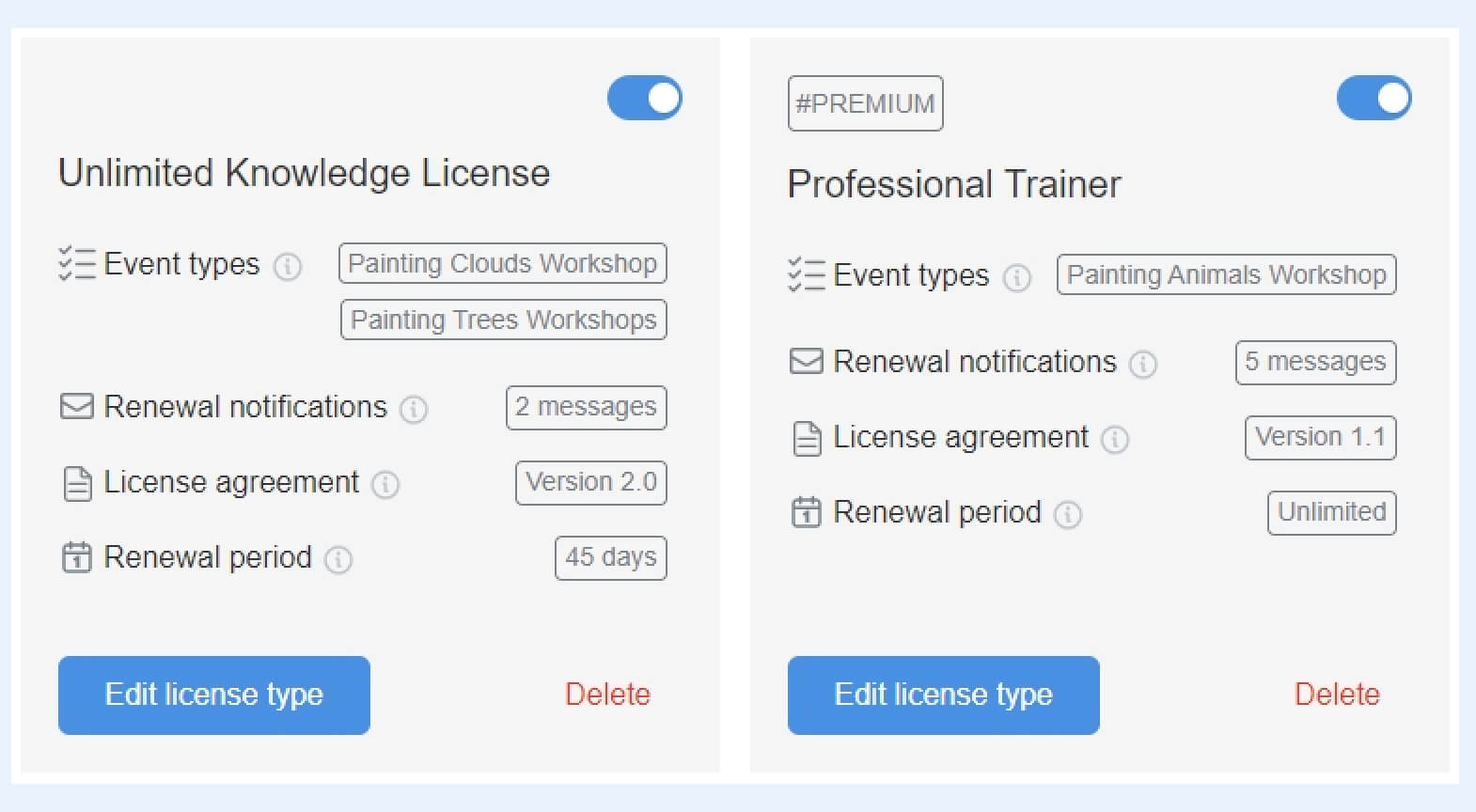 Licensed event fees
Configure price groups based on one of the three methods: flat fee per event, per hour, or per attendee. Divide price groups further by different countries, online/offline format, and event types.
Collect event fees based on the applicable price group and receive a notification when it's paid. Licensees can track unpaid and overdue invoices on widgets on their accounts. An invoice goes via several stages in Workshop Butler, allowing licensors to see at which point each invoice is at the moment. A licensee can also pay an event fee with a bank card.

License expiration and suspension
Suspend licensees with overdue invoices, revoking the ability to manage events.
Revoke a license once it expires, cancelling all future events of this licensee. If a licensee decides to renew your cooperation, they can easily reactivate them.
Add subscription periods to show the time frames when licensees had an active license and when they took a break. This way, you can calculate their actual experience.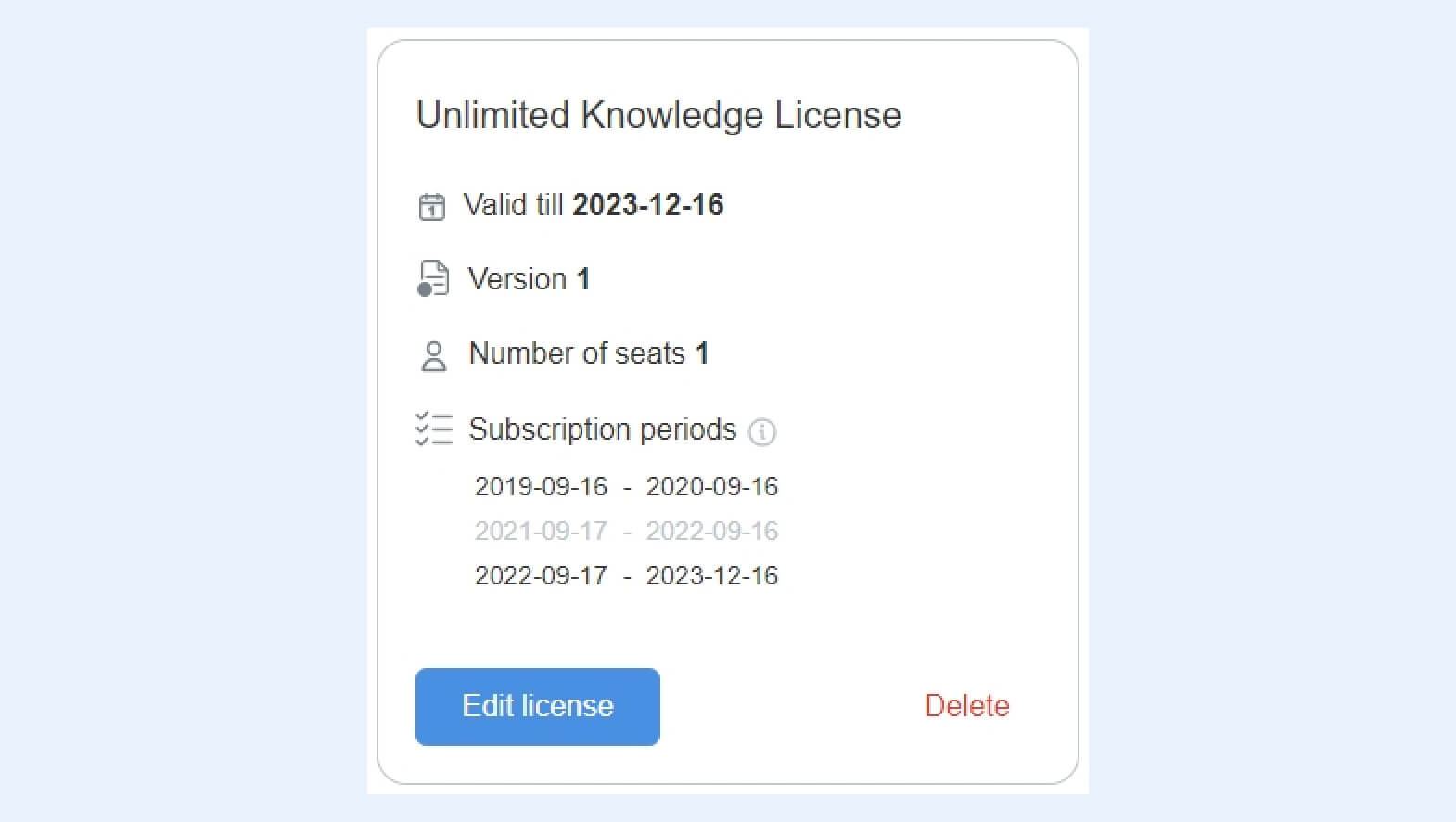 Success stories
When we were saying that licensing training courses will allow you to respond to the growing demand, it was not mere rhetoric. Successful stories of our customers will prove our words.
Management 3.0 showed a breath-taking 400% growth in trainers in 4 years. They're working with professionals all over the world and keeping their team small at the same time.
Lisette Sutherland smoothly transitioned from working solo to creating a team of Collaboration Superpowers. She then successfully dealt with sky-rocketed demand both from trainers and customers during Covid times.
Lean Change Management succeeded to stay a small and cozy enterprise, where just two carbon-based people and one robot can manage 58 facilitators.
FAQ: all you need to know about licensing training courses in short.
What is licensing of the training courses?
Giving the right to use your learning content to others for a certain period of time and receiving fees from every event based on this content.
How does licensing work?
An applicant meets the requirements for getting a license -> pays a one-time license fee and becomes a licensee -> holds events using the licensed content -> pays a fee for every licensed event -> can renew an expired license by paying a one-time fee again.
What are the advantages of licensing training courses?
Quickly scaling a training business across different countries and receiving income from yearly license fees and licensed event fees.
Who can license training courses?
It would make sense for those with a well-established brand with high-demand training content and a solid client base.
What can a license include?
Learning materials and practical exercises, help with marketing, and access to the community of peers.
Who can become a licensee?
Individual trainers and training companies, whose employees will conduct licensed events.
How to become a licensee?
Complete one or several courses and take an exam. In some cases, a licensee will need to have a certain experience in the relevant industry.
What types of licenses are there?
One license for all content. Different licenses for different courses or a combined license for several courses. Different licenses for basic and advanced levels. A main license and an add-on extending it.
How to configure a one-time fee for a license?
Take into account general parameters like the volume of content and support provided for a licensee, and variables like the licensee's country. Creating basic and premium tiers with extended materials and licensor's help is also an option.
How to configure a fee for licensed events?
It can be a fixed fee for any licensed event, a fee per hour or per attendee. Additional parameters include the country where an event is held, online/offline format, and paid/free event. It's also important to decide what to do with cancelled events.
How to write a license agreement?
All terms and conditions should be stated with maximum clarity to ensure that both parties understand their rights, obligations, and responsibilities.
How to set up a license renewal?
Send one or several notifications to a licensee before the expiration date to clarify their plans. Set a renewal period within which a licensee can renew their license by simply paying a fee, without the need to catch up to the latest changes in content.
How to manage licenses?
Track all data about licenses, licensees, and licensed events manually or use an automated solution like Workshop Butler that will track everything for you and keep all data in one place.