From the very beginning, we knew that a good website integration  could enormously help training businesses to automate the process of  workshop administration. However, the first version of our integration  widgets was not a big success. Instead of looking at the customers'  needs, we concentrated on our ideas and created a piece of excellent  working software rarely used.
Today we are introducing the next generation of our widgets for  website integration. They incorporate the lessons we have learned during  the last year, the feedback and multiple requests from clients. In  their current shape, the widgets can empower your website in a matter of  few minutes. They are more flexible, customisable, extensible, easier to use, and speak on the language of your customers.
New Widgets
In the previous version, the trainers were able to include a schedule  of their workshops, together with a registration form. A sidebar with  the upcoming events was also available. Now the businesses can select  from seven widgets. The new ones include
List of trainers
A list of trainers with various filters, including a filter by rating and badges.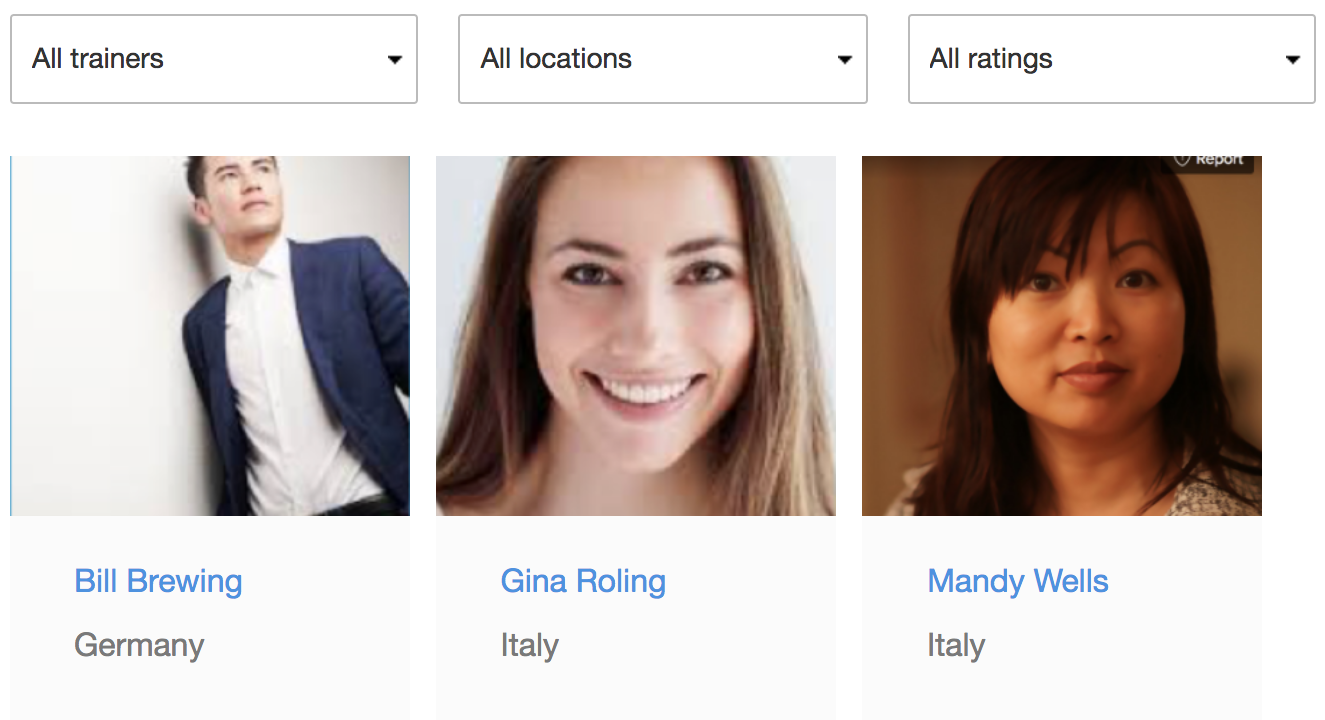 Rich Trainer Profile
Each trainer, of course, has a beautifully crafted personal profile.  It includes contact data, ratings, bio, testimonials and more.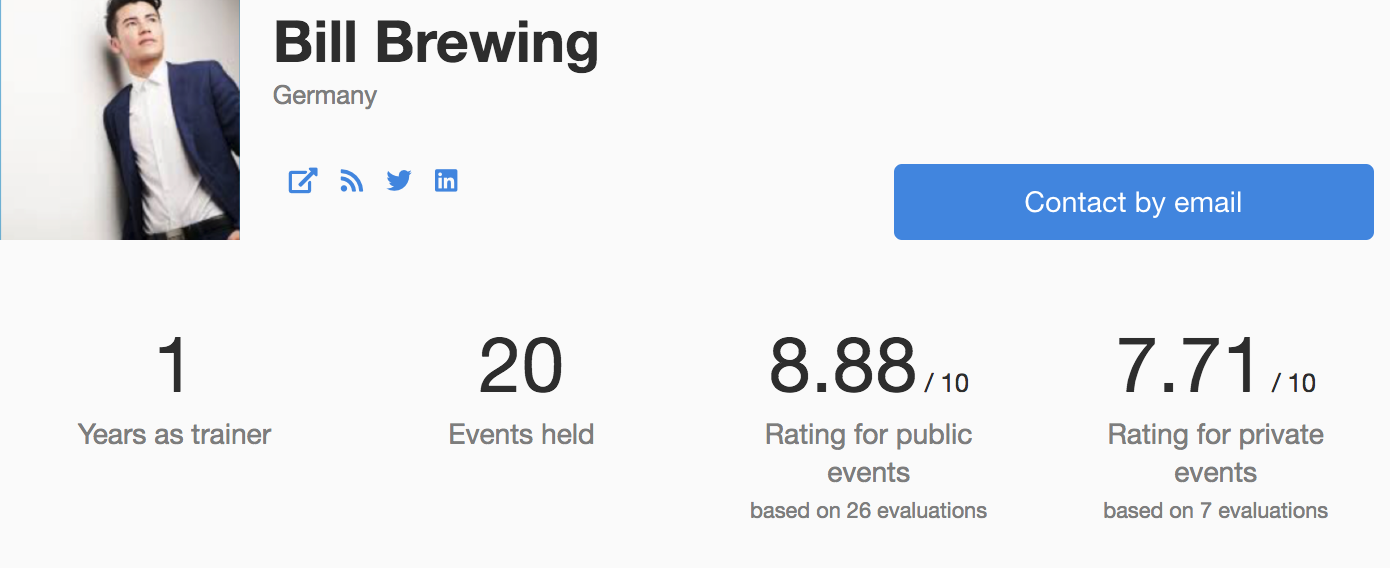 List of Testimonials
Two previous widgets were more suitable for training companies and  certification brands; individual trainers will love this one. The  built-in evaluation module allows collecting feedback effortlessly. This  widget shows the testimonials to website's visitors.
Other widgets also got significant enhancements. The registration  form has an entirely new look. The schedule of workshops, the event page  and the sidebar, support various new options which modify their  behaviour and look.
Support for six languages
Europe was always our primary market. Though English is a very  popular language, not everyone speaks it. In most cases, your students  prefer to use their mother language and want you to use it as well. No  problem!
Six languages — English, German, Spanish, French, Portugues, and Dutch — are supported out of the box. You can add other languages as well.
Simple configuration
The WordPress plugin comes with the click-and-save settings UI. There is a terrific Website Integration Kit for JS widgets. You genuinely need no technical skills to make them work.
Full Customisation
We provide five themes to choose from. However, we understand that it  is your branding and your image. The integrations are fully  customizable, and the sky's the limit for your imagination to take over.
Your developers will love the portal with detailed instructions where and how to start the customisation process.
Extensive documentation
Good documentation can literally save tens of hours. Though we strongly advise you to use our Website Integration Kit, as it makes the installation process a breeze, additional help may be needed.
There are some receipts to start with, and detailed developer documentation, describing all widgets and how to tweak them.
Open-sourced
Our WordPress plugin and JS Widgets are open-sourced. You can take them and tweak, rewrite, improve, and do  whatever you want to make them fit the most lucrative needs. Without a  doubt, we will gladly accept your pull requests.
Today's release is a big step forward towards better  automation of the process of workshop management. Yet it is definitely  not the last one. We would love to hear your feedback, discuss the  suggestions and ideas.